Suzana Bartal plays Krausas, Lefkowitz, Dusapin, Adès, Saariaho and Tanguy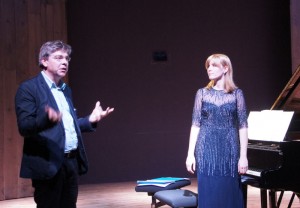 A rather sparse audience in the concert hall of the 12th district Conservatory in Paris this evening, due to the terrorist attacks last Friday. This little article just to remember a superb recital by Suzana Bartal prepared with and commented by Eric Tanguy.
The "brave" enjoyed this program :
Veronika Krausas (1963*) Un-intermezzo n° 1, 3 & 5
David Lefkowitz (1964*) Inter-Mezzo & Inter-inter-mezzo (world premiere)
Pascal Dusapin (1955*) Etude n°7
Thomas Adès (1971*) 2 Mazurkas
Kaija Saarahio (1952*) Ballade
Eric Tanguy (1968*) Passacaille

A coherent recital: pieces referring to old patterns and a certain style convergence.
Even if they are very well written, I found Veronika Krausas's "anti-intermezzi" a little predictable.
David Lefkowitz wrote an inter-mezzo, then realizing an intermezzo was supposed to be placed between two other pieces, he wrote an "inter-inter-mezzo"… Very pleasant pieces.
The most interesting ones for me:
Étude n°7 by Pascal Dusapin ("études" – studies "for the composer more than for the pianist") a rather long piece, ecstatic, superb.
Thomas Adès' 2 Mazurkas: forceful and elegant writing,
Actually Emmanuel Ax ordered these pieces to be played along with Chopin's own mazurkas, as well as he ordered Ballade by Saariaho to be played along with Chopin's and Brahms' own ones. This Ballade is also a great piece, plenty of diffrenciated textures.
Last but not least, Tanguy's Passacaille is a piece written in 1999 for a piano competition. It is just splendid, requires all the possible technical skills. With no doubt Suzana Bartal would have got the Prize…