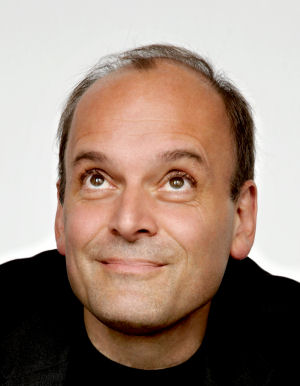 We had the opportunity to meet the Canadian pianist yesterday after the reherseal of Chopin's 2nd piano concerto with Emmanuel Krivine and the Orchestre philharmonique de Radio-France.
(broadcasted this evening on France Musique).
Concert halls
We were sitting in the auditorium of Radio France for this quick interview. Technicians brought the organ console for testing and we looked to eachother hearing the sound: not a single reverberation in the hall. He confided to me have been baffled by the low sound presence when he heard it in the studio … and hope things have been arranged for the concert.
The pianist
The man is a very simple first. He is a bit baffled by the young pianists who "give the impression to have an orgasm at every note", who play extreme: too fast or too slow, too much loud often. A little impressed also by the abundance of Asian pianists, as for example during the last Chopin competition, which had only a single pianist of Western origin in its palmares (precisely the Canadian Charles Richard-Hamelin, second).
He gives an average of just over 60 concerts a year worldwide: just check his calendar for the month of October: Puerto Rico, Bournemouth, Paris, Vienna.
Recordings
It will soon be 30 years that he records almost exclusively for the British label Chandos. Around the age of twenty, a recording project of two piano concertos by Shostakovich fell behind in Montréal and he was asked to learn the scores on the go to allow recording adjustments. Thus he was spotted and began to work with the company now for almost 30 CDs… "It is ironic that the two pianists of this firm from Northern England which recorded much of the British repertoire, are two Francophone: Jean-Efflam Bavouzet and myself. "He is very excited about this collaboration.
His almost single partner in chamber music is Augustin Dumay (A typical expression from Québec: "il faut que ça clique !").
Repertoire
Mentioning him my blog deals quite a lot with contemporary music, I didn't expect to find an amateur! "What a shame that people have so little curiosity! I learn at least one contemporary work each year, I play George Benjamin, Thomas Adès, Eliott Carter, Heinz Holliger, etc.". The two most important recent piano concertos for him are those of Lutoslawski (which he recorded) and Ligeti. He was curious to know how was that the one by Tristan Murail given some weeks ago in this same hall. His big wish: that Chandos allows him to record a contemporary music program!
Conductor
It is a great pleasure for him to complete a concerto program by conducting himself a symphonic work. Everyone should do it: we learn so much." This allows it to assess the conductors he meets ("there are so many good technicians who produce only emptiness and so many brilliant musicians who struggle to master the orchestra"). He frequently conducts keyboard concertos: "we must certainly have good Konzertmeister to support you, moreover that way we can repeat a concerto as long as necessary." I asked him how far this practice could be done in the repertoire: "For Mozart, the idea of ​​a conductor would have seemed incongruous at the time ! It works perfectly for example for Grieg's concerto, or even for the second by Liszt, but not for his 1st ". He has great admiration for Emmanuel Krivine: "I met him during his last years in Lyon: the work he had accomplished with this orchestra was remarkable." He was pleasantly surprised by the care he took to get the Chopin's orchestra sounding.
References
"Of course we listen to recordings of older pianists: you can not ignore the evolution of interpretations. One of my first shock was Witold Małcużyński in Chopin, an inimitable tone, but I should also mention among others Clara Haskil ("young pianists: Haskil, Haskil ah, the name of a piano competition!") and Wilhelm Kempff. "Among the living pianists, he prefers those who appear to him to be real artists, not platform jugglers, such as Bertrand Chamayou, Francesco Piemontesi ou Martin Helmchen.
Projects
If hes recorded the complete Ravel many years ago, he intends to give more room for the French repertoire, like a Fauré CD project, but also Scriabin and a concerto for two pianos by Ralph Vaughan Williams ("The Sponsor of the initial partition for solo piano judged it too difficult and asked the composer to make it instead a concerto for two pianos. Bartók witnessed the creation and sent a letter of congratulations to Vaughan Williams ").