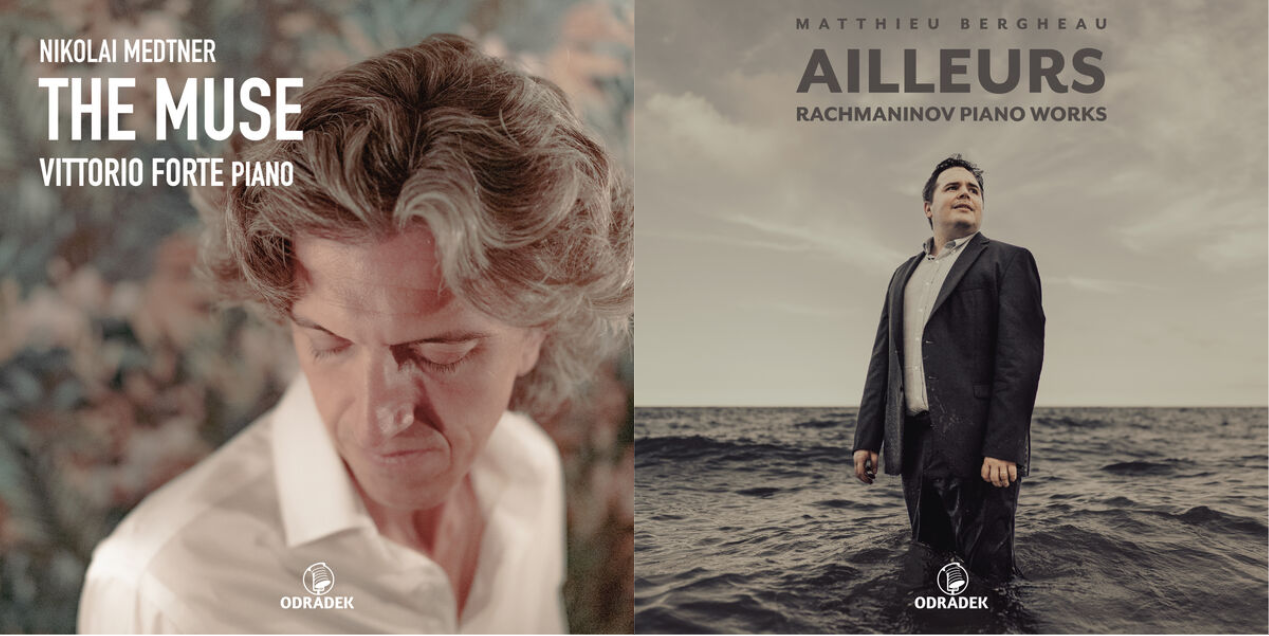 Odradek is releasing two recordings this year of piano works by Nikolai Karlovich Medtner (1879-1951) and Sergei Vasilyevich Rachmaninoff (1873-1943). The two composers were friends and held a deep mutual admiration for each other.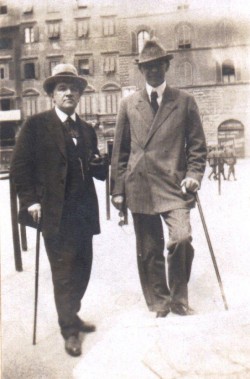 While Medtner was much less famous during his lifetime than Rachmaninoff, both as a pianist and composer, they both wrote works in a post-Romantic style. Medtner composed no fewer than fourteen piano sonatas.
Vittorio Forte (see interview) offers three cycles of short pieces by Medtner: 8 Forgotten Melodies, Op. 38, 4 Lyric Fragments, Op. 23, and 6 Fairy Tales, Op. 51 – composed between 1911 and 1928. The eight Forgotten Melodies not only capture the listener's attention but also enchant with their gently nostalgic melodies. Vittorio Forte demonstrates both flexibility and empathy, while possessing the necessary virtuosity that each piece requires, even though none of them are showy.
The melancholic and personal atmosphere is also found in the first two "Fragments"; the third "Tempo di valse" initially brings a smile but quickly shifts to a minor mode, and the fourth becomes genuinely introspective, yet always with an indescribable and captivating charm.
The six Skazki (legends or tales) appear to be based on stories with characters like Cinderella and Ivan the Fool. They seem lighter and simpler than the other two cycles, but they are just as evocative and captivating. Vittorio Forte completes this program with his own transcription of "The Muse," the first of the Seven Poems after Pushkin, Op. 29. (Medtner settled in England in 1936; he received support from Jayachamarajendra Wadiyar Bahadur, the Maharaja of Mysore, who founded the Medtner Society and undertook to have the composer record his entire work, including this "Muse" where he accompanies Elisabeth Schwarzkopf).
The warm tone of the Bechstein piano used may occasionally seem slightly veiled, but it blends very well with the scores. A truly beautiful recording by Odradek.
---
It is apparently by the water's edge that Matthieu Bergheau presents Rachmaninov's two piano sonatas and the Corelli Variations, recorded in the same studio "Les Sphères" in Odradek, where I had the pleasure of attending a recital by pianist Artur Pizzaro last year (cf.).
Rachmaninov's piano music, undoubtedly that of the greatest pianist of the 20th century, has always seemed a bit verbose to me, yet often fascinating and leaving a lasting impression on the listener. The virtuosity is more apparent here than in Medtner, it is inherent to the work, as with Liszt.
The first sonata (1908) is inspired by Liszt's Faust Symphony in its three movements. The second (1913) is just as impressive as the first, especially in its exhilarating third movement. The Variations on a Theme of Corelli date from 1931, Rachmaninov's last solo piano work. It is a beautiful piece that often brings to mind the Rhapsody on a Theme of Paganini composed three years earlier. Matthieu Berheau seemed to possess all the technical and musical qualities to interpret this program, with superb sound throughout.
A second Odradek recording that consoles us amidst the current neo-Stalinist news…