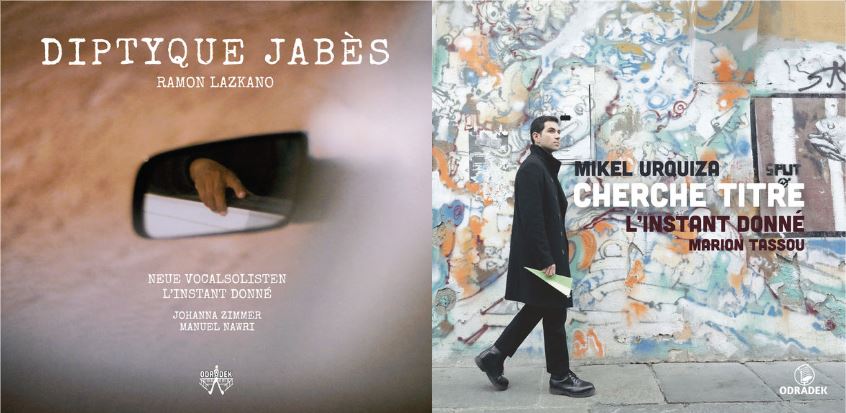 One of my recent articles was dedicated to an anthology by Laurent Lefrançois, and I have received since two recordings with very different language and aesthetic: the music of the Franco-Spanish composer Ramon Lazkano (1968*) and the Spanish composer Mikel Urquiza (1988*), who has collaborated with Lazkano.
Both albums are beautifully performed by the ensemble L'Instant donné, based in Montreuil (sous-Bois). This ensemble of eight permanent musicians has a repertoire that includes numerous contemporary composers of various styles, including Stefano Gervasoni and Gérard Pesson, who have also worked with Mikel Urquiza.
R. Lazkano's two works are the kind that captivate the ear with multiple and incessant "events," engaging the mind. They are based on poems – a kind of haiku – by Edmond Jabès and are written for six voices (Neue Vocalsolisten) and ensemble. The music is of great beauty, with a total of 24 highly contrasting pieces, showcasing a wide range of superb sounds and incorporating multiple modes of playing and singing.
A magnificent album by a great composer.
The anthology of the young composer Mikel Urquiza includes five works written for various chamber ensembles and one piece for piano. Immediately, the playful aspect of his compositions brings to mind Régis Campo. This playful aspect sometimes takes on the form of a masquerade, as in "I nalt be clode on the frolt (?)", based on classified ads found on the internet, with the voice of Marion Tassou. "Contrapluma" for piano is, according to the composer, "the perfect balance between a jackhammer and Oscar Peterson's jazz" (see below).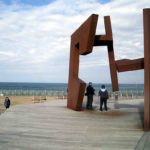 Five brief traps for instrumental ensemble make reference to the sculptures of the Spanish artist Jorge Oteiza. The music is full of rhythmic patterns, as the composer writes: "I don't want to flatter the ear, but brush against the intellect."
"Serpientes y escaleras" (Snakes and Ladders) is a continuous flow of inventiveness and delightful oddities. The same goes for "Les lueurs se sont multipliées" with a particularly deranged and dreamlike "Clair de lune" that pays homage to Debussy's piece. Finally, "Zintzil" ("suspended") is a joyful patchwork of Beethoven's symphonies.
It is a creative and entertaining music in the best sense of the term. Two albums Odradek.