Kolja Blacher plays Nielsen's Violin concerto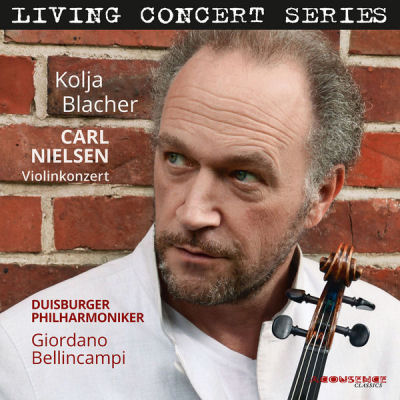 This recording was made live at a concert in 2015 to mark the 150th birthday of the composer Carl Nielsen (1865-1931), by the violinist Kolja Blacher, together with the Duisburg Philharmonic under Giordano Bellincampi.
This CD is a good occasion to get acquainted with the – strangely not well known – Concerto and with this superb violinist, Kolja Blacher, who I appreciated so much already in Schoenberg's own concerto.
Written in 1911, this concerto (around 35′ long) is in two parts, each with a slow and then a rapid part, thus this CD proposes four tracks. It's language is rather complex, sometimes barok, romantic or folkish.
The violin part is stunning: mastery of the score, warm and bright sound, accuracy of intonation: he really make you love this music! I don't know some other versions (Menuhin was one of the first to record it and the only international soloist to do so up to now).
Only reserve: there is no fill-up and the good orchestral accompaniment is a little far away.