Markus Stenz conducts Schoenberg
Violin Concerto
Kolja Blacher – Gürzenich-Orchester Köln – Markus Stenz – 2013 – Oehms Classics
Gürre Lieder
Barbara Haveman – Brandon Jovanovich – Thomas Bauer – Gerhard Siegel – Claudia Mahnke – Johannes Martin Kränzle – Gürzenich-Orchester Köln – Markus Stenz – 2014 – Hyperion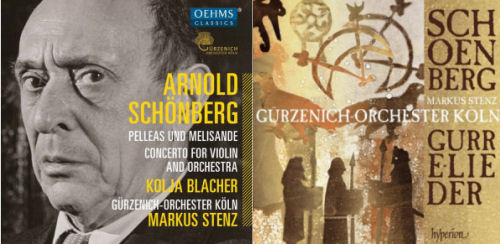 Violin concerto
This concerto, written in the USA between 1934 & 1936 was finally created by Louis Krasner and the Philadelphia orchestra conducted by Stokowsky in 1940, Heifetz having renounced to create it.
Actually, this "best ever violin concerto" (Stravinsky) never attracted the greatest stars of the violin: this work is very demanding for the listener. The violin plays all along, the construction is rather complex (analysts debate on its structure).
But that's the reason why this work is so interesting!
If your aren't confortable with atonal music, begin with the 2nd movement: an example of atonal neo-romanticism…
Kolja Blacher is a very distinguished violinist (he recorded Weil's concerto with Abbado for ex.). I compared this version in the 2nd movement with the recent Michael Barenboïm / Vienna / Boulez and the old (1971) Zvi Zeitlin / SOBR / Kubelík.
Blacher's provides the finest playing of the three. Too bad the orchestra doesn't sound more lively (the DG 1971 sounds better…), the best orchestral sound being offered by the Boulez version.
The most romantic and warm version: Kubelík
The most analytical: Boulez
Stenz is in the middle, but with the best soloist (coupled with a very good Pelléas et Mélisande).
Gürre Lieder
The original paiting represented on the cover by Gloria Wallington "Birsay Ceremony" – 1996 – is below.
I have compared it with my favorite version up to now: Kubelík – DG – 1964 (cf.).
Some comparisons:
Prelude: At first, the conducting seems to have less 'chic' than Kubelík, but the orchestra sounds much better here, it is very detailed, less uniform, less Wagnerian as with his older colleague. Funny, there is an interlude which doesn't appear in the DG version.
Voice Of The Wood-Dove: Doves Of Gurre : Kubelík's featured Hertha Töpper… Stenz's is Claudia Mahnke; vibrato, but this scene is more vivid than the DG version, 'symbolist' patterns have more impact in this both Tristan & Parsifal piece.
Waldemar's Men: Gegrüsst, o König: The choir in the Kubelík version is not well recorded. The Stenz is a little better (hard work I guess to record all these performers like in Mahler's 8th). Very good casting all along
Conclusion: If I call for a sound engineer to try to remaster the old Kubelík's concert, despite the old Leibowitz and the good Salonen accounts, this could be the best version of the Gürre Lieder up to now!