David Oistrakh String Quartet – Tchaikovsky – Shostakovich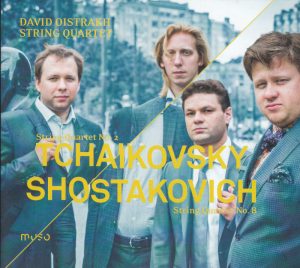 Andrey Baranov, Rodion Petrov, Fedor Belugin & Alexey Zhilin
Tchaikovsky – Quartet n°2 op. 22
Shostakovich – Quartet n° 8 Op. 110, 2 pieces op.36
It is a joy to see the birth of a new world-class strings quartet, Russian this time. His first violin, Andrey Baranov, won the Queen Elizabeth prize 75 years after David Oistrakh, in 2012, when the family of the famous violinist gave its agreement for the quartet bearing his name.
At the first listening, this new quartet appears excellent. I will not dwell on the 2nd quartet by Tchaikovsky, to emphasize the qualities perceived in the Shostakovich 8th . As for his symphonies (see the recent and superb 5, 8 & 9 by Andris Nelsons in Boston), the quartets are increasingly played in recent years, with various success, somme lacking the symphonic aspect, other rhythm or the necessary clarity different voices. Here everything is there: in addition to the sound quality, what strikes most is the commitment of these Russian artists and their impeccable mastery of dynamics: they "blow up" the Allegro molto or give all the power needed to 'Beethovenian' aspects of the 1st Largo.
I did a tour of some versions of this quartet: they exceed even the Prazak (2010), you have to go back to the first Borodin to find a version of an almost comparable level.
The CD is completed by two pieces op. 36, transcriptions of Lady Macbeth and the Golden Age.
CD to be released by muso.