Mravinsky – Sibelius – Debussy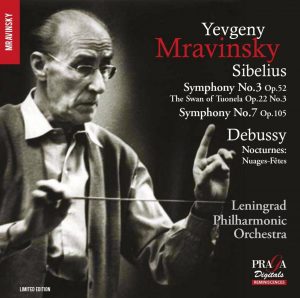 Sibelius : 
Symphony No. 3 in C Major, Op. 52 (1904-1907) - 10/27/1936
The Swan of Tuonela, Op. 22, No. 3 (1895) - 02/23/1965
Symphony No. 7 in C Major, Op. 105 (1924) - 10/29/1965
Debussy: 
Two Nocturnes: Nuages et Fêtes (1899) - 02/26/1960
Leningrad Philharmonic Orchestra - Yevgeny Mravinsky
This SACD gathers excerpts of four concerts given by Yevgeny Aleksandrovich Mravinsky (1883-1988) with the orchestra he will conduct from 1938 to 1982, having won the first all Unions conducting competition in Moscow (2 weeks long) followed by Karl Eliasberg, Kondrashin and Zhukov (see about Kondrashin). He will give only few concerts with the USSR State Symphony in Moscow and with the Czech Philharmonic in Prague All this material has been previously released, even Sibelius's Third Symphony (Altus). Most of them can be heard on Youtube if you want to get an idea of the interpretation. But if you want to listen to it in the best sound possible, better get this SACD (and the corresponding playback equipment).
Debussy: only the two first Nocturnes, the third requiring a choir. Many writers quote the fact that Nuages has been inspired by a Mussorgsky's melody (the 3rd – The noisy day has sped its flight from the Sunless cycle). This has been repeated since Léon Vallas, a French critic and musicologist, wrote it a long time ago (about Debussy and Russian influences on his piano music, see here); I have listened back to the song: it needs a strong imagination to find it in Nuages… We find here of course all the quality of the conductor: animation, colors, caring phrasings, balance. The Sortilèges of Debussy's orchestration are beautifully rendered here (live!). The counterpart of all these qualities is a slight metronomic stiffness, I prefer here the flexibility of a Stokowski in London (1957).
The 3rd and the Swann are of course great lectures – I'm not going to make a comparison of the latest with one of the very few Kubelik's account of Sibelius's music – just to recall an anecdote: Kubelik and Mravinsky happened to be at the same time on a Japan tour with their respective orchestras, and Mravinsky, impressed by Kubelik in a concert, sent him a bouquet of flowers at his hotel's room…
I just wanted to spot the 7th. I'm not a devoted fan of Mravinsky, but this lecture is just extraordinary. I have always praised the Gennady Nikolayevich Rozhdestvensky's complete set (along with Barbirolli's), and compared it with this one. Mravinsky is much better in let say the first half, even if GR has his own magic in the second. Here you are overwhelmed by the phrasings, colors, timing, precision. And all together in a great sound! A must. You can get it here.