Emil Gilels (1916-1985) in Prague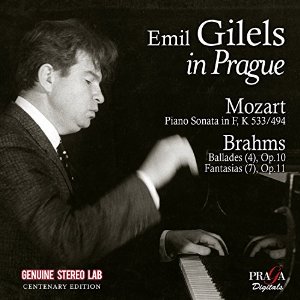 Mozart (1756-1791) – Piano sonata K 533/494 – Prague Spring Festival – 5/24/1973
Brahms (1833-1897) – 4 Ballades op.10 – Czech Radio – 5/10/1978
7 fantaisies op.116 – Prague Spring Festival – 5/24/1973
First one of the most "serious" sonatas of Mozart (1788 – with a revised version of Rondo K 494 as final). It is beautifully restored: overarching vision, sound of each note, musical lines management, Gilels subjugates us from beginning to end.
4 Ballads of the young Brahms (1854): the piano is set incorrectly and zinc at will, we hope that the Czech Radio has changed it since 1978 … But we still have the bronze sound so homogeneous; it is a very epic young Brahms, there are magical moments (early 2 mid-3). If this concert was given today, we would still applaud wildly …
With the 7 Fantasies op.116, the old Brahms (1892), same recital as for the Mozart sonata. The first is certainly Presto energico! Listen to the ethereal strangeness of 4, the harmonies of 5, unreal.
In short, all Gilels fans (hope there as as many as those of his companion from Ukraine) will get it.
Here the 5th Fantasy: