Karl Amadeus Hartmann (1905-1963) – Simplicius Simplicissimus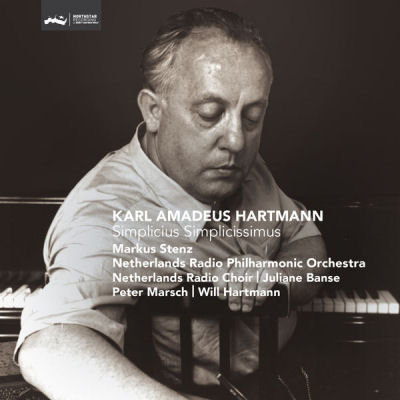 Simplicius Simplicissimus
Juliane Banse, Will Hartmann, Peter Marsch, Ashley Holland, Kristof Lorek, Michael Elder, Harry Peeters, Netherlans Radio Philharmonic orchestra and Choir, Markus Stenz. 24/11/2012 – Concertgebouw
Challenge Records
An opera by a composer still relatively unknown, especially in France. This is his only opera, written in full rise of the Nazis between 1934 and 1936, extensively revised in 1957.
The work is based on the new Abenteuerliche Der Simplicissimus by Hans Jakob Christoffel von Grimmelshausen (1669): The Thirty Years War will decrease the German population from 12 to 4 million between 1618 to 1648 … The society is represented in the form a tree where the peasants live at the roots level, with just a bit above the soldiers. They will kill his family, he will be hosted by a hermit (and will be afraid of a prowling wolf: Hitler), he will end buffoon for the governor before farmers come and kill the whole court.
One can certainly criticize Hartmann's "neo" trends in his works which are inspired here by Stravinsky, there by Berg, etc. ; here the opening is written in a tribute to Prokofiev and the shadow of Hindemith flats all the way (which is not displeasing for us in an opera …).
Nevertheless, his music has its own style, with a virtuoso and varied writing, as here with many different styles to combine variety and drama.
Superb capture on SACD, dynamic and efficient conducting from Markus Stenz, beautiful plateau in the forefront of which the soprano Juliana Banse who embodies Simplicius.
Has Hartmann's time eventually arrived?