Moragues – Prazak – Mozart – Weber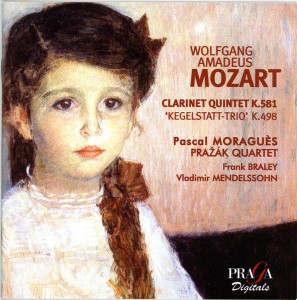 This is a reissue of recordings made from 2001 to 2003.
Programme with the French clarinetist Pascal Moraguès:
Mozart – Trio pour keyboard, clarinet, viola in E flat K. 498: Franck Braley, piano and Vladimir Mendelssohn, viola
Mozart – Clarinet quintett in A major K. 581 – Pražák quartet
Weber – Quintett for clarinet and strings in B flatop 34 – Pražák quartet
Pierre Barbier sent me this CD, I was a priori not enthusiastic about it, I put it anywayand fell under its spell. The program is obvious, 3 of the best works of chamber music with clarinet.
The common point is obviously one of the best French clarinetists, Pascal Moraguès, solo in the orchestra of Paris, with a very velvety sound.
He is very well accompanied in the Trio by Vladimir Mendelssohn, and Frank Braley.
For quintets by Mozart and Weber, he is associated with the Pražák Quartet, ie the level of interpretation, respect for the style, but with a great sense of narration, stunning instrumental quality, etc.
Note that at that time the Pražák were in their former formation and that they play also with another excellent partner: the French clarinettist Michel Lethiec.
Better to listen to an excerpt (mp3): the Largetto from K. 581: