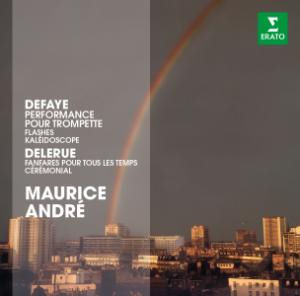 Reissue of an old Erato LP (1976) with a world Première: Performance by Jean-Michel Defaye (*1932).
Performance is a superb piece. Jean-Michel Defaye is known in france for his collaboration with the singer Léo Ferré; this seems like a suite composed for the French singer Edith Piaf who would play the trumpet (A very 'voval' writing) … The jazzy musical arrangement sounds seventies, Maurice André is iperial as ever, same for the 9 flashes or Kaléidoscope by the composer.
With Georges Delerue, a famous composer of film music, we are in the "neo" style but where the crafstmanship (his Fanfares pour tous les temps show a sophisticated writing) does not hide a superb freshness of inspiration. As quoted by Pierre-Yves Lascar in the booklet, I had after this listening an uncontrollable urge to listen to one of my madeleines, the Fanfare of La Péri by Dukas … Cérémonial is also a beautiful, meditative work .
A true musical and auditory happiness with this CD (superb sound)! And thank you for taking up the beautiful cover photo, oddly poetic.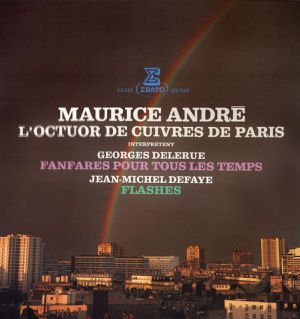 cf. from n° 56 of this older reissue (without Performance therefore)