Leoš Janáček (1857-1928) – Amarus – Václav Neumann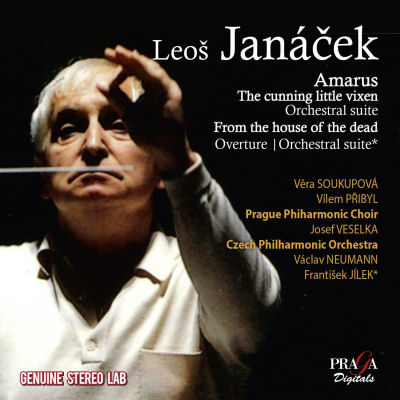 Reissue of a CD edited by Praga in 1995, recordings made in the Smetana Hall:
– Amarus (1897), Věra Soukupová, soprano, Vilém Přibyl, ténor, Prague Philharmonic Choir, Josef Veselka, Czech philharmonic, Václav Neumann (28/3/1974)
– The cunning little vixen (1921-1923), orchestral suite, Czech Philharmonic, Václav Neumann (3/3/1988)
– From the house of the dead (1927-1928), orchestral suite, Czech Philharmonic, František Jílek (12/4/1979).
Amarus
This work has been recorded only in the Czech republic:
Bretislav Bakala – Marie Bakalová- Josef Válka – František Rösler, – The Vach Moravian Lady Teacher's Choir – Moravan Academic Singing Association – Brno Radio Symphony Orchestra, Orchestra (Panton – 19??)
Otakar Trhlik – Chœur philharmonique de Prague, Josef Veselka, Eva Gebauerová, Jiří Zahradníček, René Tuček, Ostrava Janáček Philharmonic orchestra (Supraphon – 1974)
Václav Neumann, Ivo Žídek, Jindra Pokorná, Vladimir Bauer, Moravian mixed chorus, Brno State Philharmonic orchestra (Supraphon, 19??)
Charles Mackerras, Václav Zítek, Květoslava Němečková , Leo Marian Vodička – Prague Philharmonic Choir – Czech Philharmonic (Supraphon, 1984)
We have heard the Bakala et Mackerras versions: one is more bitter, the other more suave, Neumann is a good environment: idiomatic phrases and orchestra, wonderful atmosphere, superb tenor (which also holds the traditionally devolved to the baritone part). Choir prepared by the choir of the time in Prague: Vaselka Joseph (1910-1992). One of the first successes of the "young" Janáček (1897, seven years before the creation of Jenufa in Brno). It's a work which has a place similar to das Klagende Lied for Mahler symphonies, it is both taking and poetic.
Suites
The work on the sound restoration is even more obvious here. In these 2 suites, we fell like being in Prague! Good idea to put the prelude to the House of the Dead at the beginning (conducted by Neumann in this reissue), Jílek appears excellent, perhaps lacking a bit of the darkness underlying – actually in this reissue the Prelude is conducted by Neumann, more dramatic. Superb sound. Then the Little Vixen conducted this time by Neumann, impresses with the accuracy of its climates.
Lovers of Janáček music will rush!