Souvenir of Dinu Lipatti (1917-1950)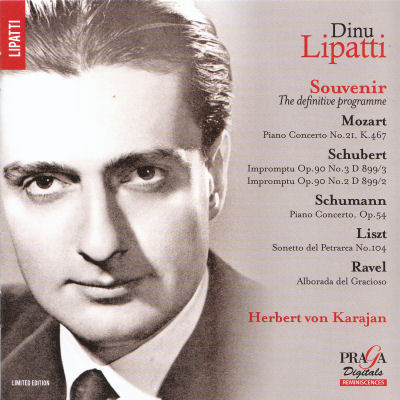 Mozart – Piano concerto n° 21 K. 467 – Lucerne Festival Orchestra – Herbert von Karajan – 23/8/50
Schubert – Impromptus Op. 90 n°3 & 2 – Live – Besançon – 16/9/50
Schumann – Piano concerto Op. 54 – The Philharmonia – Herbert von Karajan – 9-10/9/47
Liszt – Années de pèlerinage 2e année – L'Italie – Sonetto 104 del Petrarca – 24/9/47
Ravel – Miroirs – Alborada del gracioso – 17/4/48
"The definitive programme" ? Anyway a nice retrospective of the famous Romanian pianist, died at age 33, godson of George Enescu, a pupil of Cortot, Baker, Munch, Dukas … His discography is extremely short (cf. Dinu Lipatti Website).
The concerto K. 467 is a classic. The pianist shows an Apollonian natural blending with a very goog accomaniement by Karajan ; the restoration of this band seems remarkable: wif nothing can be done against the defects of the microphones of the time, but we have here a real sound image and tones.
For the two Schubert Impromptus, we will have experienced in 65 years of recording history more tousled or more internalized versions, rarely as honest and with such a natural musical flow.
Schumann concerto: we had a very partial compared discography a few years ago, overwhelmed by the enthusiasm of Argerich / Rabinovitch and the grandeur of Arrau / Kubelík in concert in New York in 1968. Here we are between the two, but not below, and if he lacks a bit of romance, this is of a great musical evidence – the piano sounds better than 3 years later in Lucerne.
And to finish, a poetic Liszt and a Ravel played with a hair-raising virtuosity.
A great SACD of no less then 79'… See