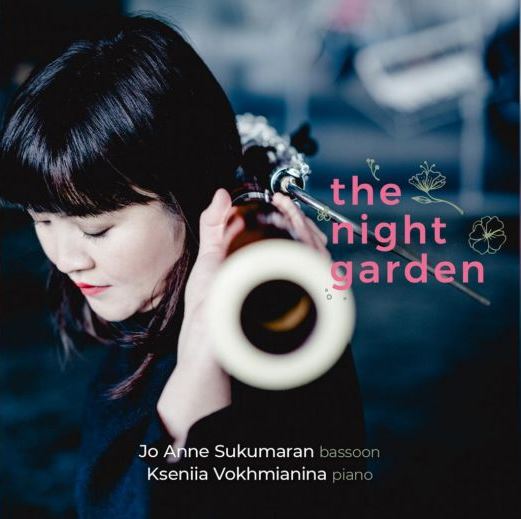 The bassoonist Jo Ann Sukumaran just sent me her first CD from Singapour.
Program:
Philippe Hersant (1948*): Niggun for solo bassoon
Camille Saint-Saëns (1835-1921): Bassoon Sonata Op. 168
Charles Koechlin (1967-1950): Trois Pièces for bassoon and piano, Op. 34
Alexandre Tansman (1897-1986): Sonatine for bassoon and piano
Manuel de Falla (1876-1946): Asturiana – Nana
Robert Rønnes (1959*): Réflexion for bassoon and piano
The Night Garden improvisation for tanpura, bassoon and tabla
This is mostly a French music program – There are many CDs with bassoon recitals on the market, but this one is more original, with a piece by the French contemporary composer Philippe Hersant, another by the Norwegian Robert Rønnes and finally an improvisation for tanpura, bassoon and tabla (Jo Ann Sukumaran is half Chinese, half Indian).
Her purpose for this album: "The bassoon is known as for its comic and humorous character in the orchestra. However, I wanted to move beyond that and explore it from different perspectives, not only from a Western classical one, but also from an Asian perspective."
Philippe Hersant collaborated for this piece with the French bassoonist Pascal Gallois Niggun is the name given to a type of Hasidic Hebrew songs, vocal melodies without words. The recording of this piece by Pascal Gallois is still the reference, but Sukumaran's lecture, in a faster tempo is beautiful.
Jo Ann Sukumaran's warm and stylish playing is à l'aise in the Saint-Saëns's classicism, Koechlin's interiority or Tansman's playful sonatine.
The piece by Robert Rønnes is charming, though written in a very traditional idiom and the small improvisation at the end of the CD gives to the occidental listener a touch of exoticism.
Highly recommended.