Pascal Gallois – Solo – Neuwirth – Boulez – Berio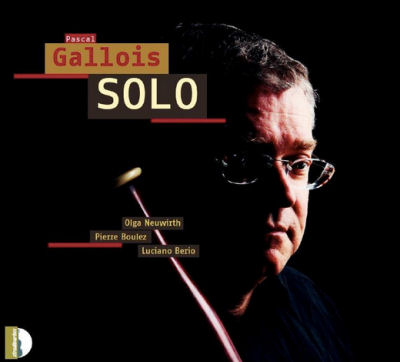 If Pascal Gallois wanted this CD reissue (previously published recordings for Stradivarius) in tribute to Pierre Boulez for his 90 years, it is no less – and rightly – a CD dedicated to Pascal Gallois through works of three composers with whom he worked and made thte creations.
Neuwirth – Torsio
The work begins in an almost jubilant way, before the appearance of the recorded part giving it a mysterious atmosphere emphasized by long held or striking modulations of the instrument. The soloist then resume its slightly mocking approach, joined by festive music pre-recorded, as if the bassoon's Rite had escaped to go party. A fun and effective work, created in its orchestral version on January 31, 2002 at Radio France by Pascal Gallois and the Ensemble Intercontemporain conducted by Sylvain Cambreling.
Berio – Sequenza XII per fagotto
Inspired and created by Pascal Gallois (1997), this work has often been reworked by the composer until his death in 2003. We curiously wonder if there are not two instruments… It is a kind of long (about 19 ') wandering exploring many new techniques to the instrument, or rather a kind of long melody both warm and gently plaintive.
Boulez – Dialogue de l'ombre double
Originally composed for clarinet and electronics in 1985 for Berio's 60th birhday, Pascal Gallois suggested Boulez to make a version for bassoon in 1995. Too bad sigles, strophes and transitions were not separated on the CD.
The work immediately sounds more rhythmic than the two previous ones. Listening to it on headphones better assesses the spatial distribution of the recorded portion. If the range of the instrument seems less explored than in the other two parts, the "dialogue" between the instrument and its dual creates some drama.
There are also two versions for saxophone and flute. The initial version for clarinet (Alain Damiens) then listened seems both more talkative and more 'tinny'.
Congratulations to this great musician, now also a conductor.