Meeting the composer Régis Campo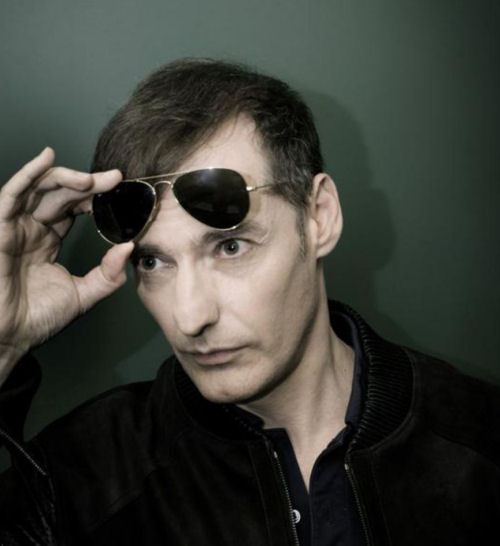 I listened to some CDs from this composer, and enjoyed his varied and endearing music. cf.
Biography
He studied composition with Georges Boeuf at the Conservatory of Marseille. Then he entered the Conservatoire de Paris in the classes of Alain Bancquart and Gérard Grisey, where he obtained his first composition prize in 1995. In 1992 he studied with Edison Denisov who considered him as "one of the most gifted of his generation." His style, often described as playful and colorful, departs the great aesthetic trends of the late twentieth century with emphasis on melodic invention and tempos of great vitality.
From 1999 to 2001 he was resident at the Villa Medici.
In Europe and around thirty countries around the world, many artists have played his music.
His work has received numerous awards including the Gaudeamus Prize (1996), the Special Award Young Composers (1996), the Dutilleux Prize (1996), SACEM prices Hervé Dujardin (1999) and Pierre Cardin (1999) The Institute of France, the SACEM Prize for Young Composers (2005), the "Georges Bizet" Prize of the Institute of France (2005), Prize of the Simone and Cino Del Duca Foundation (2014).
In 2001, his work Lumen, for orchestra, is created by the Berkeley Symphony Orchestra under the direction of Kent Nagano, California, in April 2003, the same performers become successful with the creation of his First Symphony.
In November 2003, Felicity Lott and the Ensemble Orchestral de Paris, conducted by John Nelson, created Happy Birthday at the Théâtre des Champs-Élysées. She also created his Bestiary after Apollinaire with the Orchestre National de France under the direction of Alain Altinoglu in November 2008 in Dijon and Paris.
His CD "Pop-Art" received the Academy Charles Cros "coup de cœur" in 2005. His Second Symphony "Moz'art" was created in September 2005 by the Ensemble Orchestral de Paris under the direction of John Nelson at the opening of its 2005-2006 season at the Théâtre des Champs-Elysées. The Orchestre symphonique de Montréal conducted by Kent Nagano has created in 2008 in Montreal his orchestration of Erik Satie Sports and divertissements.
His second opera "Quai ouest" based on the play by Bernard-Marie Koltès was created in September 2014 at the Opéra national du Rhin during the Festival Musica, then given back during the 2014-2015 season in German language at the National Theatre in Nuremberg (Staatstheater Nürnberg).
His catalog – containing over two hundred works – comprises various instrumental or vocal ensembles as: Commedia (1995) for 19 musicians, the Chamber Concerto for 7 musicians (1996), the Violin Concerto (1997- revised 2001), the Livre de Sonates (1997-1999) for organ, the Piano Concerto (1998-1999), Nova (1999) for 12 mixes voices, mixes choir and ensemble, the Livre de Fantaisies for cello (1999), Faërie (2000-2001) for orchestra, Happy Bird (2001) concerto for flute, 2 horns, percussion and string orchestra, Lumen (2001) for orchestra. Premier Livre (2000-2002) for piano, Pop-art (2002), Symphony no 1 (2002-2003) for orchestra, Ouverture en forme d'étoiles (2004) for orchestra, String Quartet no 1 "Les Heures maléfiques" (2005), Symphony no 2 "Moz'art" (2005) for orchestra, String Quartet no 2 (2006), String Quartet no 3 "Ombra felice" (2007), Lumen 2 (2006-2013), Le Bestiaire after Apollinaire for soprano and orchestra (2007-2008), Les Quatre Jumelles, opera buffa for 4 singers and 9 instruments (2008), String Quartet n°5 " Fata Morgana" (2012), Quai-ouest, opera (2013-2014).
An independant composer?
Régis Campo admits multiple influences, whether classical or contemporary music, but also jazz and popular music. He likes to take "not conventional directions," and defines himself as an "independent rebellious" loving being called into question. He cited the "open windows" of the last works by Ligeti, who was able to retain a youthful character or Stravinsky's Agon: " when I heard it for the first time on the radio, I thought it was the work of a young composer inspired by Stravinsky and Boulez ".
Among the great independent, he quotes at first Dutilleux, Messiaen, Lutoslawki, Ohana or Britten (opera), but also Scelsi (Konx-Om-Pax -"example of music that will never grow old"), Claude Vivier (Lonely Child), Takemitsu or some Russians (Gubaidulina, Schnittke, Denisov). Stressing him a little, he adds other works: Stockhausen (Stimmung, Trans), Boulez (Dérives), Varèse (Amériques) or Xenakis (Jonchaies). For Americans, Charles Ives ("and his transcendentalism"), Steve Reich ("for his original report to Stravinsky and even the European avant-garde"), Morton Feldman (Coptic light).
Among the more recent composers, he follows with great curiosity the music of Dalbavie, Cavanna, Levinas, Murail, Canat of Chizy, Saariaho, Adès, Tanguy, Natsuda, Pécou, Unsuk Chin Pesson, Mantovani, François Narboni, Christian Lauba, Oscar Strasnoy, or Nico Muhly. But he certainly doesn't like neo-tonal composers ("just ufologists or Raelians!").
"I have no warlike vision of composers with so opposed styles. Like orbiting planets, these composers have different sizes and positions. – some with more or less satellites – but they are in the same solar system and need each other to exist in a relationship of attraction / repulsion. Today, apart from all Byzantine quarrels, we must fight against ambient amnesia and the arrogant ignorance of some politicians or deputies; we have suffered with the history of the memorial plaque of Henri Dutilleux. But it is a long time since Mitterrand spoke on television about literature, precisely with Modiano, since Giscard d'Estaing was listening to some Mahler waiting for the presidential results in 1974! We must today remain vigilant and remain resistant and not let up. "
"Career"
Régis Campo is a productive, seeked after and happy composer "composing music in these days is priceless. First of all, you have to develop a technique, a style with the sense of the unheard". Commands arrive regularly and his catalog includes about 220 works (he has yet destroyed fifty), some of which were created but not yet published,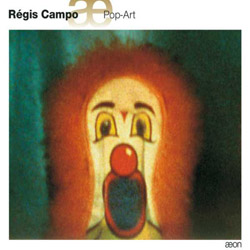 waiting to be possibly revised. Many are regularly performed as Pop-Art ("one of the two or three most played score from Lemoine Editions …"). "All the composers would love to have their Boléro, but it cannot be decreed." Among his favorite works, he cites Lumen, especially Lumen II, his two operas, his fifth string quartet, Les Blasons du corps féminin, Commedia (International Gaudeamus composers Prize in 1996), his concertos for piano and violin ("in the latter a tiling effect between two movements had hit Dutilleux and George Benjamin "), many pieces for piano or organ … He often leads parallel composition of several works. But his opera Quai Ouest took him three years of work.
"I compose constantly in my head, I use the piano, simple pencil and eraser, or computer but everything must be registered clearly in my head." This ability is of course due to his formation but is innate in some way, as his perfect pitch: "from my younger age, I was changing spontaneously the partitions I deciphered; sometimes I mentally composed a musical counterpoint to the sounds I was hearing around me in the street". For him, the key is the search of a style: "We need both to let go and give up, obviously in pain at multiple influences to be yourself." He doesn't use electronics in his music, not as a principle, but "because I'm not good at it."
Regarding opera, he believes that everyone is not necessarily able to write for it: "you must know how to write for the voice, manage the booklet, work with a production team, etc. For my opera Quai Ouest for example, I wished for the second production in Nuremberg, to cut and rewrite some scenes so that the lyrical work works. I am already dreaming of a new staging of my opera ".
Régis Campo is also professor of composition at the Conservatoire de Marseille. He has a sense of the transmission and likes to be in contact with young composers, "Dutilleux, Messiaen, Ligeti also have always been in contact with 20 years old composers."
Interpreters
He cited interpreters of his own works who stroke him the most: Felicity Lott, Kent Nagano, Jay Gottlieb ("like a musical brother"), thePari sii Quartet, Rachid Safir, Bertrand Chamayou, Mireille Delunsch, Zoltán Kocsis, Laurent Korcia, Fabrice di Falco, Alain Meunier, Alain Altinoglu, or the Ensemble Clément Janequin and Dominique Visse ("what a joy to hear the audience laugh when representing my Cris de Marseille!").
Projects
First there will be the creation in June of a melodies cycle from poems by Christian Morgenstern with the Nuremberg opera singers and Street-Art pour the Ensemble TM+ in June again.
A melodies cycle for soprano, piano and orchestra with the mythical Philippe Entremont and soprano Julie Cherrier.
A melodies cycle for orchestra Paradis perdu which will be created in August in Montréal by Kent Nagano with the young coloratura soprano Marie-Ève Munger. Aldo a piano work for Wilhem Latchoumia,a piano trio for the Beethoven Trio Bonn, an opera with the Japanese staging directorYoshi Oïda and a cello concerto for Pieter Wispelwey : «He flew specially to see my opera Quai Ouest in Strasbourg in September 2014. Our meeting was a real artistic coup de foudre!»
Projects ( 01/21/2016)
– Creation of "Eden II"(2015) for oiselon by Mathieu Godefroy – Concert Musica Universalis 19 February 2016

– Creation the definitive version de "Eden" (2009-2015 dedicated and first performed in 2009 by Laurent Korcia) for violin by Mathieu Godefroy

– Creation in 2016 of the definitive version of "Morgenstern-Lieder" for mezzo-soprano and piano by Katalin Karolyi
(command from the Staatstheater Nürnberg) in Hungary
http://www.katalinkarolyi.org

– Craation of a piece for cello byPieter Wispelwey in hommage to Henri Dutilleux (le 3 June 2016, festival de violoncelle de Beauvais)
http://pieterwispelwey.com

– Creation in 2017-2018 of concerto for cello and orchestra by Pieter Wispelwey

– Trio "Swag !" for violin, cello and piano (2015-2016) for the Beethoven trio Bonn


– CD release of "Au cours du temps" (2011, Editions Henry Lemoine) for cello byFabrice Bihan
http://www.disques-triton.fr/index.php/fr/catalogue/218-nouveautes/9-hommage-a-henri-dutilleux-par-10-compositeurs


– CD release of "

Eternal Sunshine.1

" (2009/12, Editions Henry Lemoine) for two pianos and two percussionnists by the Berlin PianoPercussion

Telos Music TLS 181

http://www.symeonidis.de/cdse.htm
Ressources :
"Quai Ouest" critical reception
Interview of Kanako Abe
Many Youtube documents