Haydn – The seven last words – Prazak quartet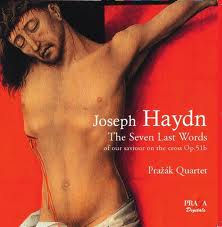 Again a great accomplishment by the Pražák Quartet. Haydn thought this was his best achievement: you can find currently at least 58 versions on CD, and besides the other forms – oratorio, chamber orchestra, piano, with or without a speaker, many quartets have recorded it already: Amadeus, Cherubini, Juilliard, Guarneri, Emerson, Borodine, Janacek to quote the best ones.
Though I can't compare all these versions (even if I had them, this lasts around 70') but it surpasses in my opinion the Emerson for example. You are just astonished by their insight, their musical mastery and more over you never get bored during 72' and then just wish to replay the CD (SACD in fact).