Stefan Wirth plays Szymanowski, Ligeti, Ives, Wirth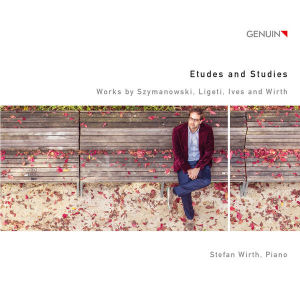 This is an original program around modern studies for piano, by the Swiss pianist and composer Stefan Wirth.
Karol Szymanowski (1882-1937): 12 Etudes op. 33 (1916)
As the pianis wrote : "Szymanowski's exceptional compositional freedom can only be properly evaluated today now that the many dogmas of compositional technique of the 20th century have been set aside and all composers have to come to terms with pluralistic approaches". These aphoristic 12 pieces (from 1′ to 2′ each) are wonderful by their richness, inventivity and liberty of language.
Gyorgy Ligeti (1923-2006): Etudes for piano , Book 3, n° 15 to 18:
"White en White", "Irina", "À bout de souffle", "Canon" (1995-2001)
4 "facetious" and thrilling studies.
Charles Ives (1974-1954): Studies n° 20 to 23
Amazing musical patchworks from this kind of 'American Mahler', for his inclusions of marchs, tunes aso. As wrote Wirth: "Chartes Ives can be regarded as the most important and perhaps still unmatdied model for composing in a pluralistic style. In the early 20a' century he was already composing music in which ragtime, hymns, marches, German counterpoint, Broadway songs, impressionistic mixtures of sourds and towering atonal chords are heard all at once in perfectly natural co-existence".
Stefan Wirth (*1975): 5 Etudes
Finally 5 studies written by the pianist more on the Ligeti side "I deliberatly wrote pieces which I was unable to play, but which I gradually taught myself by practising them…".
Superb pianism all along.