Meeting Elena Bashkirova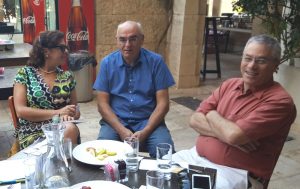 This year is the 19th edition of the Jerusalem International Chamber Music Festival and we had the chance to meet Elena Bashkirova, its Artistic Director since its creation.
The Festival
"19 years ago, Jerusalem was getting musicaly isolated; nothing really special happened here in the music field, it was kind of collapsing culturally. Though I never had built any music festival, and never had the ambition, thinking I wouldn't have the capacity – I got the idea while listening to Beethoven's Triple concerto with Itzhak Perlman, Mischa Maisky and Yefim Bronfman, considering these three musicians on stage…
It was a challenge: making world known artists coming here, with no fee, in a place without any artist management or record company. I asked Mischa Maisky, Yefim Bronfman and others and they were enthusiastic. I contacted other musicians and was flabbergasted by their positive reactions. Everyone wanted to be part of it; of course the city has its own unique magic, but they were mainly interested in playing with other musicians.
Most festivals, though inviting numerous musicians, have their own peculiar circle of artists. Here we try to bring new musicians, for example the Capuçon brothers weren't known at all here when they first came in. We also try to have many woodwinds programs and, a little bit our trademark, to mix in Lieder programs: there are rather few real Lieder singers and very rare Lieder recitals nowadays, even in Berlin or Vienna.
First two years took place in the Khan Theater, a small place not well suited for music making, but since we are located at the YMCA and are very happy with it. We do many arrangements of larger works for chamber music, we play many not well known music and it is our duty to play modern music. Thus, since 2004, we commission every year a new piece to a composer. People were a little bit surprised at the beginning, for them even Schoenberg sounded like complicated music. But time passing, and pieces being repeated, the language which seemed to them completely foreign became their own. The public here is fantastic, they are quiet, don't cough and being on the scene, musicians can feel their concentration. They prepare concerts, get information on the played pieces before attending the concert. The best compliment I got was when one year when we did a lot of Boulez, an old lady came to me saying: it is very important for us to listen to such music, we want to learn!".
Do you encounter any problems? "Not at all; of course I am only in charge of the programming and you can face sometimes rather banal logistic problems, but for example no musicians wouldn't come because there is not any money. And the house is always filled. We always invite young musicians, on older musicians or professor's recommendation, and mix them with more experimented ones, allowing them sufficient time for rehearsal. So younger musicians learn from the older and these ones are excited to play with new figures. We also try to build new ensembles; and with five or six musicians which we tour during the year in many places : Paris, London, Geneva, Salzburg etc. under the name "Jerusalem Chamber Music festival". Concerts are broadcasted here and last concerts are streamed by Arte for the second time.
We give all possible chamber music possible combinations: duets, trios, quartets, quintets and so forth, and I like to make opposition between couples of composers which are supposedly similar: Prokofiev / Shostakovich, Haydn / Mozart, Brahms / Schumann, Mahler / Bruckner, etc., this way people can spot the differences and revise some made ideas.
I like very much contemporary music even I can't pretend to know everything, I especially like for example Windmann, Pintscher, Boulez, Carter; we also play many interesting Israeli composers: Ayal Adler, Betty Olivero, Yinam Leef this year; there is a rather specific music school here in Israel, sort of post-Bartok style: Ben-Haim, Sheriff, Weisenberg, Zahavi, etc. and we have here more and more contemporary music ensembles.
Public here seems rather aged? "Yes, what can I do about it, but it's been so for years and the hall it is still full; I often say wait a little, they will come!"
Future
Nest year will be the 20th edition, I would like to make it a little bit longer – two weeks – gather all musicians who have been participating and make a big retrospective. And also replay pieces we commissioned, even if it presents some difficulties, for example the Flute concerto by Elliott Carter, which was created by Emmanuel Pahud, needs a lot of musicians and was co-commissioned by Berlin Philharmonic and Boston symphony.
Projects
Are you going to study new piano scores? "Yes, some Scrabin, after the Seasons, Tchaikovsky's Children Album, some Liszt and Schumann, and almost every year, I learn a new Mozart concerto…