Emmanuelle Swiercz-Lamoure Web site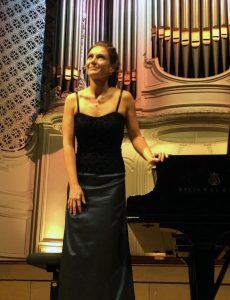 We liked very much her recents Chopin CDs (Nocturnes & Valses), impression of having to deal with a pianist of high class was corroborated by a recent recital Salle Gaveau in Paris.
On s'est rencontrés rapidement à la faveur d'un déjeuner :
Emmanuelle started the piano "only" at the age of 9. Her parents were not music lovers, her father (an entrepreneur) would have liked her to pursue scientific studies, but in front of her obvious gift, they gave her their precious support. She will join the CNSMP at the age of 16 and follow the lessons of Michel Béroff and Denis Pascal. She will then follow the 3rd cycle with Marie-Françoise Bucquet and many master-classes, with György Sebök in particular, a pianist who has marked her a lot.
She will pass some competitions, even if the exercise has never fascinated her. "Yes I have stage fright, I always have it before each concert: it is a fragility somehow essential. But it must be admitted that being a laureate puts the foot in the stirrup for the career. I toured abroad, especially in China, Japan, Vietnam where I was struck by the youth and the spontaneity of the public; we must not be offended that some take their dinner altogether during the concert … The public is very spontaneous, as selfie sessions with them after the concert, with the family! It's very comforting for the future of classical music, which they know very well. ".
When I asked her how many concerts she answered: "It must be one or two a month, but it's actually very variable. I will be doing a tour in Japan soon, then nothing: I will work the 1st Brahms concerto that I will give in Dijon a few weeks later. I am mainly looking for a balance of life between music and my family, my five years old son, friends, travels… ".
Her repertoire ranges from baroque to contemporary music. "Kurtag, with whom I took classes, Dutilleux, Tanguy, Crumb, Ligeti, Boulez or Alain Bonardi. But in fact I play very few contemporary scores.
I asked her if she knew Scriabine: "I played it a lot in my debut, we had recorded his complete piano music with four other pianists. Then I went to Rachmaninov, Schumann, Liszt; I have only really practiced Chopin's music recently, with the last two recordings which programs had been proposed to me by Philippe Maillard. "
Her piano pantheon: among the old, Horowitz or Gould ("which fascinates me, even if I do not adhere to some of his interpretations") and for the living pianists Volodos, Lupu, Perahia, Anderszewski, Chamayou or Kissin to quote some.
"I played chamber music, it's very rewarding and it allows you to get out of the loneliness of the soloist. I also participated in 2014 at the Théâtre des Bouffes du Nord in a show by Denis Podalydès around Chekhov's "tobacco misdeeds" with the excellent actor Michel Robin – it's an experience I would like to renew. "
A brief meeting so, very pleasant, do not miss her next concert!