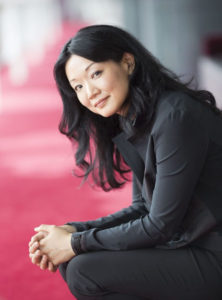 Momo Kodama is a Japanese pianist, living in Paris. We met through Régis Campo: she recently performed at the Strasbourg Musica Festival his Étude pour les cordes bloquées.
"It's been 35 years since I live in Paris. We followed our musical studies at the same time with my older sister (Mari Kodama, wife of the conductor Kent Nagano) at the Conservatoire de Paris. Our paths were then a little separate but we now play together once or twice a year, we have just recorded our second disc. She went to take advice from Alfred Brendel, while I could have the advice of András Schiff, Murray Perahia, Tatiana Nikolayeva or Vera Gornostaeva, a great pedagogue in the tradition of Neuhaus.
My sister specialized in Beethoven, whose full sonatas and concertos she recorded, while I turned to Mozart, Chopin and French music: Debussy, Ravel or Messiaen. When I won the ARD contest in Munich, I was with Tatyana Nikolayeva and I was 19 years old; she advised me not to do too many things as a pianist until I was 25 and to work on my repertoire. I think it was wise advice.
I do not teach, only some master classes, even if I like that a lot. I give about fifty concerts a year, it's a rhythm that suits me. Plus, it would be too much: there are artists who give a hundred concerts a year and who are doing very well, you have to find your own balance; for my part, I would be afraid of having to sacrifice my personal life."
TV : Do not you sometimes feel special moments during your concerts, where "the current passes", many are the interpreters who told me about it?
MK : Of course, there is then a kind of energy that is created, which I also feel when I'm in the audience.
I mentioned piano marathoners as Nicolas Horvath  (An entire night with Glass at the Philharmonie, Vexations by Satie…) or Yukio Yokoyama (intégrale Chopin en un seul concert) : "We were together at the Conservatory with Yukio Yokoyama. He is very brilliant, he opened his own restaurant after having passed a sommelier diploma!"
I give concerts mainly in Japan and Europe. In principle, I group concerts when I go to Japan. This is actually quite practical, because after a concert, I can take a plane in Tokyo around midnight and be at 7 o'clock in the morning in Paris! Even if I did not live there, I like to return to my country where I find my roots; Besides, my parents returned there after a long time in Europe.
TV :How many works do you have in your repertoire?
MK : (laughs) I never counted: on an other hand I must have a little more than fifty concertos in my directory.
TV : Are there any composers you will never play their piano music (I was thinking of course about Rachmaninov)?
MK : It's a little difficult ; for example, I did not think of playing Rachmaninoff, and now I recently gave in Tokyo his Rhapsody on a Theme of Paganini with the superb conductor Jonathan Nott. There are composers I've played very little, like Brahms, Liszt, Prokofiev or Shostakovich, but maybe later? I think I work more music by composers like Bach, Schubert, Bartók or Scriabine. The repertoire for piano is so vast, there are also many works that we play at home without necessarily giving in concert.
TV : Your piano Hall of Fame?
MK : I listen to more records of pianists of the past than those of contemporary pianists: I will quote Kempff, Cortot or Richter. But I actually listen to more chamber or orchestral music than piano music. (For current pianists, we could evoke Nelson Freire or Radu Lupu, Andras Schiff, Piotr Anderszewski for example).
Recordings
My first records were published by Triton. They left me a lot of freedom; after a Debussy album and a Chopin, I was able to record Messiaen: the Vingt regards and the Catalogue d'oiseaux : for each of them I had five or six days of recording. They recovered old microphones from Decca; it was a very serious job, without compromise. For ECM, the meeting was via Arvo Pärt: Manfred Eicher assisted at a recital in Riga and ten years later he listens to me in the Concerto for the left hand by Ravel and offers me to record the Préludes by Debussy. But I did not want to, I did not feel ready, so I suggested the CD Ravel – Takemitsu – Messiaen.
I had the chance to meet Colette Zerah, wife of the composer Pierre Jansen, she was a student of Lazare Levy; she brought me a lot in the knowledge of the music of Ravel and Debussy; I would have met her earlier, I might have agreed to record Debussy's Préludes, who knows! My basics of piano playing were brought to me by Germaine Mounier who kindly gave me lessons at the age of 10 before entering the Paris Conservatoire. At the Conservatoire, Messiaen was already a classic.
In project, I have a musical show that we will give in March 2018 on the occasion of the centenary of the death of Debussy, with melodies, piano music and his quartet. It will be on March 25 in Paris at the Bellevilloise with the actor Pascal Reneric and the baritone Josep Ramon Olive for the very day of the anniversary and will be given back then in different cities/countries.
Recent recital by Momo Kodama at the Festival Musica 2017