Kubelik – HMV recordings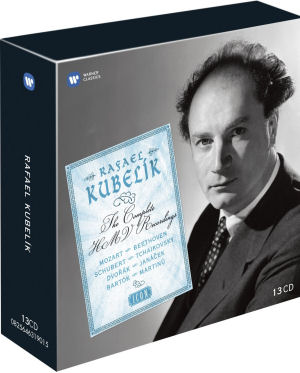 Bartók: Two Portraits Op. 5 – Concerto for Orchestra
Beethoven: Symphony No. 6
Berlioz: La Damnation de Faust, Op. 24 (excerpts)
Borodin: Prince Igor: Polovtsian Dances – Symphony No. 2 in B minor
Brahms: Hungarian Dances
Dvorak: Symphony No. 7 – Symphony No. 8 –
Scherzo capriccioso – Slavonic Rhapsody No. 3
Gluck: Iphigénie en Aulide: Overture
Janacek: Sinfonietta – Taras Bulba
Martinu:
Les Fresques de Piero della Francesca
–  Double Concerto for Strings, Piano & Timpani
Mendelssohn: A Midsummer Night's Dream, Op. 61 (excerpts) –
Calm Sea and Prosperous Voyage
Mozart: Symphony No. 35 – Haffner' Serenade – Eine kleine Nachtmusik
Cassation K63 – Symphony No. 36 'Linz'  – Symphony No. 38 'Prague'  -Symphony No. 41 'Jupiter'
Nielsen: Symphony No. 5
Schubert: Symphony No. 4 in C minor – No. 8 'Unfinished'  – Symphony No. 9 'The Great'
Smetana: The Bartered Bride (highlights)
– Má Vlast: excerpts
Tchaikovsky: Symphony No. 4 – Symphony No. 5  –  Symphony No. 6 'Pathétique'
This is the reissue in 13 CDs of the (almost) complete recordings by Kubelík for EMI / HMV . Curiously missing 4th Martinu yet published by Warner… and some unreleased recordings. For fans , the only news is the opening of Gluck, to Mendelssohn Calm Sea and three additional excerpts from Mendelssohn's Dream , and Dvorák: Othello and Nature. The recordings range from 1937 to 1983. Vaclav Talich was replaced by Kubelík for a tour of the Czech Philharmonic Orchestra in England with George Szell also . They made record Kubelík 2 extracts of My Country , while Szell was given the New World . Before his exile , Walter Legge made ​​him register three overtures by Dvorak and Janacek's Sinfonietta in 1946 and made ​​him sign a contract after his exile, with the Philharmonia and the Royal philharmonic (the Beecham's orchestra who forced him to leave Covent Garden…). These early 50s sessions were interrupted as a result of his three years in Chicago (contract with Mercury ) and his years at Covent Garden. The booklet does not tell the dark years of the late 50s – see here . The contract with EMI should continue and Kubelík made ​​a Beethoven 6 with the Royal philharmonic ; then the Vienna Philharmonic Orchestra became available for EMI : hence the Schubert cycle , the last 3 by Tchaikovsky, and to end the contract, pages of Mozart in the early 60s before he would be released from this contract and passes under DG label in favor of his taking control of the Orchestra of the Bavarian radio in 1961.
Note a major lack in this set : Mathis der Maler Hindemith . In the list above , I noted the records that seem major, even if the others are at the top of interpretations: for me, the best recording of the Concerto for Orchestra Bartók : I have yet compared nearly 50 records … his best Pastoral, great Borodin, the Hungarian Dances and Dvorák make you cry from enjoyment , one of his best Frescoes , and absolutely stunning excerpts from the Bartered Bride.
A box of course REQUIRED !