Yevgeny Mravinsky – Shostakovich – Scriabin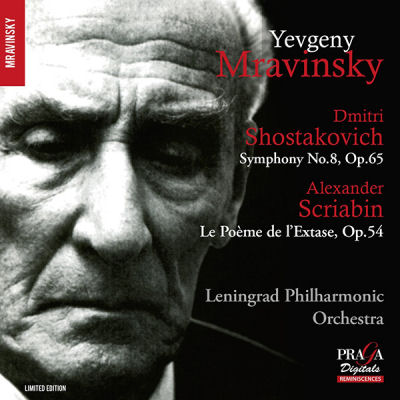 When you know the piece and have a look at the CD you know this won't be funny at all…
8th was dedicated to him. We only know 4 existing editions of this symphony by Mravinsky: one from 1947, a live in London in 1960, this live 'February 12, 1961) in the Conservatory Hall in Moscow and another concert in same hall in 1982.
Curiously there is not a single Mahler piece in his discography. Shostakovich lovers will rush on this reissue: he was probably his best performer and, as always at Pragadigitals, the restoration work is exemplary.
Not being an unconditional nor of the conductor or the composer, I would simply say that it is quite impressive controlled and conducted. The last movement in particular is superb.
An anecdote comes back to me: he was on tour in Japan at the same time as Kubelík (1975 maybe) and, impressed by one of his concerts, he sent him flowers to his hotel …
This is not because I am lucky to be friend with Pierre Barbier that I always draw praises for its production: some of his SACD have not been presented here. But in the vast majority of cases, he chooses wisely the best bands which he get restored as no one. Below the ones which seem essential to me, from those I have been able to listen:
Scriabin: My preferred version is that of the whimsical and demiurge Svetlanov (Live 1977 – same room, but with the "USSR symphony orchestra"). How does it compare to this live recording  (12/22/58)?
This version is very orderly, quivering, quite slight, almost "Debussy" and curiously makes think at times at The Sorcerer's Apprentice (1897). This absolute mastery gives a clear restitution of the score but not erotic-mystic thrill here … I put back my "Svlet" for some bars and let you guess, but my family environment musically castrating , it is the word here, asked me to cut: "it screams!"
Conclusion: a must for Shostakovians!