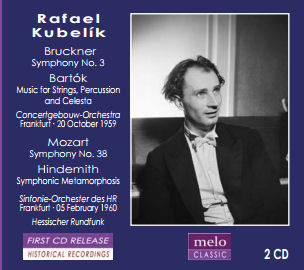 So if you look for it, you can still find good or event great unpublished concerts by Kubelik!
Lynn Ludwig has just published two absolutely unknown concerts, One in 1959, with the Concergebouw – Kubelik had been for years a frequent conductor of this orchestra before deciding finally to conduct German orchestras and taking over the SOBR in 1961. On this 20 October 1959, they gave a Bruckner's 3rd , not his best account, but better than another one of 1954 published by the orchestra, and a marvelous Music for Strings, Percussion and Celesta by Bartok: his most 'romantic' and 'Hungarian' version. You may quote Fricsay, Karajan, Reiner or Mravinsky, etc., I do prefer Kubelik, especially here.
The other concert in this 2 CDs box was given in 1960 with the "Sinfonieorchester des Hessischer Rundfunk" (Frankfort symphony radio orchestra). A very good orchestra (strings), with Hindemith's Symphonic metamorphosis, rather good and a – as ever – splendid Mozart's Prague. Some may prefer "historically concerned" lectures, Kubelik concerns me enough!
These are my 7th Bruckner, 6th Bartok, 12th Mozart and 7th Hindemith and I don't get bored.
Interestingly, the CD sleeve presents a picture of a telegram sent by Kubelik in 1968 to call major Occidental musicians to boycott the communist regimes after the Czechoslovakia's takeover. This one was sent to Bernstein in Brussels (150 musicians will sign it : Stravinsky, Menuhin, Haitink, Rubinstein, Klemperer, Arrau…).