Solaris – Dai Fujikura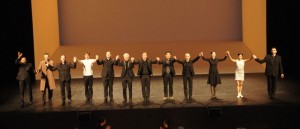 An opera of nearly one hour and 35′ with 3D projections, real time electronic processing and dancers doubling the protagonists. Taken from the famous science fiction novel by the Polish author Stanislas Lem Solaris (1961) [summary here]. All this was very strange in the venerable theatre of the Champs-Elysées!
Downs: A very reduced and simplified version of the book: despite the committed means and the call for video clips: no ocean, no red and blue suns or spectacular temporary forms. Certainly he had to adopt an operatic writing, and wanted to focus on the questions of the main character, Kris, rather than on the disturbing environment described in the novel. Then I'm certainly little concerned by dance, but the place which was granted to it, even with spectacular moments, seemed too dominant, it looked almost like an opera-ballet… Finally why using English (and Dai Fujikura emphasizes the links between music and prosody), since this work was commissioned by the Théâtre des Champs-Élysées, the Lille Opera, the Lausanne Opera and IRCAM? Presumably in the hope that this work will be done later in English speaking countries.
Ups: The quality of the music of Dai Fujikura, so varied and efficient; in some passages I think I recognized the influence of some opera composers of the twentieth century (whose name starts with a B …). The electroacoustic treatment was actually very sophisticated. The speakers distributed in the hall brought real added value to the work: Kris' voice doubled – his conscience – (sung backstage by another singer and processed electronically), orchestral parts (trombone…) echoed in the hall and, perhaps the most troubling, the lightweight real-time processing of Hari's voice, thus bringing up her unreality. The opera begins with good 4 or 5 minutes of 3D video of a kind of fog, in a total silence (apart from the many catarrhal), a very impressive start actually punctuated with "ha! " from some dowagers showing their impatience. Overall, a brilliant work, a beautiful aesthetic to which we can blame only one thing: only two performances in Paris, which is pretty amazing when you consider – at least – the time spend by the composer at IRCAM and TCE for preparation. This production will then move to Lille and Lausanne cf: Lille and Lausanne inhabitants, you must rush to see this so original show. It was announced that France Musique recorded the work (the excellent Ensemble Intercontemporain had before recorded the entire score to allow computer programming): we looked forward to a possible broadcast to better study the music. Let's not forget the excellent conductor, Erik Nielsen.