Yael Barolsky – Meanderings : Barolsky – Berio – Elkana – Francesconi – Fujikura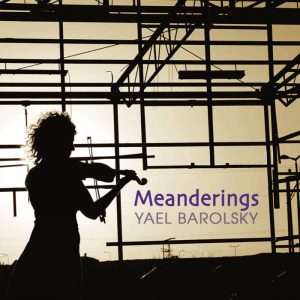 Michael Barolsky (1947-2009) – Prana for violin and tape (1977)
Luciano Berio (1925-2003) – Sequenza VIII for violin (1976)
Amos Elkana (B. 1967) – Reflections for violin and electronics (2014)
Luca Francesconi (B. 1956) – Riti neurali for violin and ensemble (1991)
Dai Fujikura (B. 1977) – Fluid Calligraphy for violin and optional video (2010)
---
Yael Barolsky's short bio:
Born in Tel Aviv in 1977, Yael Barolsky performs regularly with leading musicians from Israel and abroad in chamber music concerts, is a member of the Israel Contemporary Players and was guest artist in numerous festivals including Rolandseck – Festival, Kfar Blum Music Festival, Eilat Festival, Tectonics Festival and Lucerne Festival. Yael has been broadcasted on Israeli and European Radio and has performed as a soloist with conductors Pierre Boulez, Ilan Volkov, Marcello Panni and with orchestras as the Israel Philharmonic, Bochumer Symphoniker and the Israel Camerata Jerusalem. Yael has performed with the Maria Kong dance company, Kolben Dance and with contemporary music ensembles including Ensemble intercontemporain and Ensemble musikFabrik.
---
Yael Barolsky sent us this CD you can obtain through her website.
It begins with a sort of prerequisite for violinists willing to play contemporary music: the Sequenza VIII for violin by Berio, played here in a sensible and intimate way.
Dai Fujikura's Fluid calligraphy is an endearing piece where the violonist's bow is treated like a calligraphist's brush. Here is the version with the video designed by Tomoya Yamaguchi – who has participated to many projects with Dai Fujikura.
Amos Elkana's Reflections for violin and electronics: Amos Elkana is a composer, guitarist and electronic musician. This piece allows a more immediate approach, rather playful but elegant, certainly very difficult to play since the violinist has to keep along with pre-recorded violin sounds. Here she is, in a live recording:
Then a piece by her father, Michael Barolsky, for violin and prerecorded tape is in a more traditional langage, citing J.-S. Bach. I can be heard here.
Finally, Riti neurali for violin and ensemble by Luca Francesconi, with the Israeli Contemporary players under Ilan Volkov. This maybe the more conceptual piece in this CD. I quote the composer's introduction: "I was fascinated by this theory of two mathematicians, McCulloch and Pitts. They thought to rebuild the functioning of memory in a distributed and non-central way; they imagined a system, "Nets with Circles", with neural circuits that would keep reverberating for an undefined time: so trying to explain the memory of events happened in the network a long time before. I did like the idea of many, diverse memories that build one another through induction and deduction. That is to say parallel flowing of different 'models' of energy; resonance of events, of initial experiences. Isn't experience a layering of memories? Which step by step from a texture more and more dense and powerful. Therefore, memory would be the engine itself of our system. Like in a man's life, as times passes by, this network becomes heavy and loses flexibility: the huge emotive spur of memories is not used any more as a propeller of the system; these memories become sclerotic and emerge for themselves, faded and petrified, no longer elements of an extremely articulated network."
I don't know if my neurons are already too old, but I appreciated this piece, sophisticated but plenty of drive, impressive. Superb playing / conducting all along.
A superb CD, a great violinist, but why bother buying the CD since almost everything is on line? Because the sound is much better!