Pierre Boulez – Young composer and conductor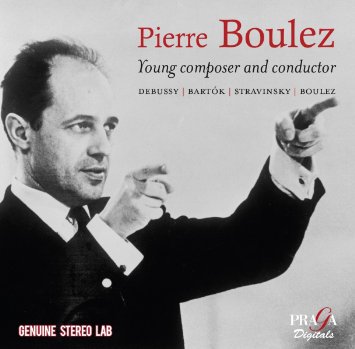 ---
Igor Stravinsky – Le chant du rossignol – Royal Concertgebouw Amsterdam – Live – 02/25/1960
Bela Bartok – Violin concerto n°1 – Yehudi Menuhin – Royal Concertgebouw Amsterdam – Live – 06/29/1966
Claude Debussy – Jeux – Royal Concertgebouw Amsterdam – Live – 07/01/1961
Igor Stravinsky – Symphonie d'instruments à vents – Concertino pour 12 instruments – Orchestre et ensemble du domaine musical – Paris – 1962
Pierre Boulez – Le soleil des eaux – Joséphine Nendick – Louis Devos – Barry McDaniel – BBC choir and symphony orchestra – 1958 version – London studio n°1, Abbey Road – 9/27/1964
---
This CD gathers recordings from the sixteens conducted by Pierre Boulez. The Chant du rossignol shows Boulez as a very young conductor: his conducting career really began in October 1959, replacing on short notice his mentor Hans Rosbaud. Rather good sound, February is a bad month for coughers. Boulez will record this piece in studio with th Orchestre national de France (Erato, 1982) and Cleveland (DG, 2001). Superb orchestra, magical last bars.
I was jus re-reading before listening to this an interview by Boulez in the French magazine Diapason about Bartok. He declared then having better reconsidered his 2nd Violin concerto… but in fact he conducted even the first one! I confess I didn't really know this concerto: it's a superb one, poetic and elegiac in its 1st movement, more joyful and dynamic in the 2nd, splendidly done here, with plenty of atmosphere.
Jeux was one of the many Boulez's specialties. This a rather decided and dynamic lecture. I can't resist to recall this funny video (Jeux is supposed to occur at dawn so why wearing sun glasses…).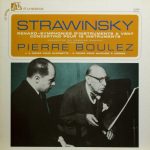 The Stravinsky's Symphonies d'instruments à vent & Concertino pour 12 instruments comes from studio recordings made by Lucien Adès. The remake of the Symphonies he will do with the Berliner (1999) is more refined but has less impact -same for the concerto he will give back with the Ensemble Intercontemporain (1982 – DG).
As for many Boulez's works, Le soleil les eaux had many versions, a first life as an illustration for the French radio (Commissioned by Alain Trutat, a colleague of Dutilleux) – 1948. Then at the Théâtre des Champs Elysées, July 18, 1950, creation of the 2nd version for soprano, tenor, bass and chamber orchestra with the the Orchestre national de France under Roger Désormière, a 3rd one – first performance (1958) with Joséphine Nendick, Helmut Krebs, Heinz Rehfuss, the Hessian Radio Chorus and orchestra under Ernest Bour, in Darmstadt (first Paris performance in December 1958 under Maurice Rosenthal), an on October 4, 1965 a 4th version for soprano, mixed 4-part chorus and orchestra, with Catherine Gayer and the Berlin Philharmonic orchestra & chorus, conducted by Boulez in Berlin. It will be recorded with my friend Phyllis Bryn-Julson for Erato. So here is the 3rd version, historic!
You can get it here.