L'Arte della variazione – Pragadigitals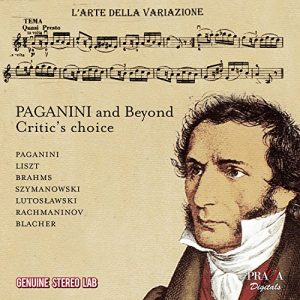 Niccolo Paganini – Caprice op.1 n°24 – Michael Rabin (1958)
Franz Liszt – Etude d'exécution transcendante n° 6 – Geza Anda (1954 – unpublished)
Johannes Brahms – Paganini Variations – Geza Anda (1953)
Karol Szymanovski – Paganini Caprice n°3 – Thomas Zehetmair, Silke Avenhaus (1995)
Witold Lutosławski – Paganini Variations for 2 pianos – Prague Duo Piano : Zdeňka Kolářová & Martin Hršel (2002 – Live – Unpublished)
Sergei Rachmaninov – Rhapsody on a Theme of Paganini – Arthur Rubinstein – Chicago Symphony orchestra – Fritz Reiner (1956)
Boris Blacher – Paganini-Variationen – RIAS sinfonie Orchester Berlin, Ferenc Fricsay (1952)
An evident program, you just had to think about it, in chronological order, in order of workforce amplification and of complexity of processing variations on the famous 24th Caprice of Niccolo Paganini … All without cut, for a total of nearly 80 'music in 64 tracks.
The initial caprice is played by Michael Rabin : arched phrasings, electric pizz, virtuosity, but intonation sometimes perfectible.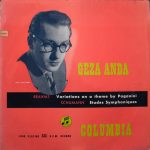 Then a study by Liszt by Geza Anda (unpublished), but mostly Anda in the Brahms's two volumes of 14 variations where everything seems perfect. An extraordinary recording made before his famous discographic carrier for DG. Then, a beautiful lecture of Szymanovski by Thomas Zehetmair.
Witold Lutosławski dynamite blithely the theme in a short piece for two pianos.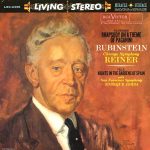 Rachmaninov by Arthur Rubinstein conducted by Fritz Reiner. With the last one we are sure the barlines will be followed… but it works. Rubinstein, remains "the Prince of the piano", with a a lecture full of spirit, almost joyful despite the Dies irae…
Blacher was part of that generation of German composer neglected after Darmstadt (Bialas, Egk, Fortner, Hartmann, etc.). A beautiful work, rather traditional, but with a very rich and varied orchestration and a lot of energy. Amazing recording for that time (1952) ; hair-raising conducting from Ferenc Fricsay.
An original SACD and highly entertaining program. Can be ordered here.
L'Arte della variazione – Pragadigitals