Praga Digital reissues – Furtwangler – Karajan – Rosbaud – Yudina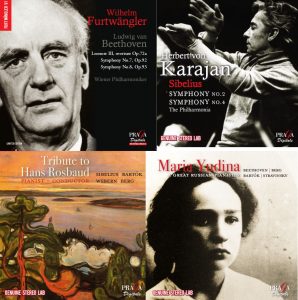 Maria Yudina (1899-1970)
Beethoven – Eroica Variations Op. 35
Berg – Sonata
Stravinsky – Serenade
Bartok – Mikrokosmos Parts V-VI – excerpts
Stravinsky – Concerto for piano & wind instruments – Gennady Rozhdestvensky – USSR Radio Symphony
Herbert von Karajan (1908-1989)
Sibelius – Symphonies 2 & 4 – Philharmonia
Wilhelm Furtwängler (1886-1954)
Beethoven – Leonore II – Symphonies 7 & 8 – Wiener Philharmoniker
Hans Rosbaud (1895-1962)
Berg – Three pieces for orchestra Op.6 – SWR Sinfonieorchester
Webern – Six pieces for Large orchestra Op.6 – SWR Sinfonieorchester
Sibelius – Valse Triste – Tapiola – Berliner Philharmoniker
Bartok – Sonata for Two Pianos and Percussion – Maria Bergman, piano – Werner Graginger, Erich Seiler, percussion
---
4 reissues this month from Praga Digitals.
Maria Yudina was a special person; from a Jewish family, she was an advocate of the orthodox Church, it is said that "her classmates included Dmitri Shostakovich and Vladimir Sofronitsky", and "She was awarded the Stalin Prize and donated its monetary portion to the Orthodox Church for "perpetual prayers for Stalin's sins". She was also a very singular pianist, as talented as capable of some idiosyncrasies. I admit I first withdrew this CD, choked by some fff at the end of the theme of the Beethoven variations, and thought it wouldn't be of my taste as for a certain Richter. Wrong: she plays these variations with a unique sense of construction, and a remarkable independence of the two hands, like two characters speaking to each other. Despite some metallic sounds from time to time from the piano you can listen to a brisk Berg Sonata, playful Stravinsky and Bartok pieces and a superb atmosphere obtained by Rozhdestvensky in Stravinsky's piano concerto.
Herbert von Karajan was a long time supporter of Sibelius. These two classic accounts are superbly remastered here with spacious stereo for that time – the 2nd symphony was among my favorite in a recent compared listening.
Classic accounts if any are the Beethoven by the late Wilhelm Furtwängler with the Wiener, mixing old fashioned phrasing and agencing and astounding moments.
A very welcome reissue of the smart and elegant conductor, Hans Rosbaud. Two "hits" of the beginning of the 20th century, the Op.6 by Berg and Webern played with great clarity and rigour – A chilling account of Webern's 4th piece… Then 2 classics Sibelius recording made for DG and a good account of Bartok sonata played by Rosbaud himself with the SWR radio pianist, Maria Bergman(n?) – see.
Links:
Yudina – Karajan – Furtwängler – Rosbaud