Claire Gibault – The Paris Mozart Orchestra and the Mélologues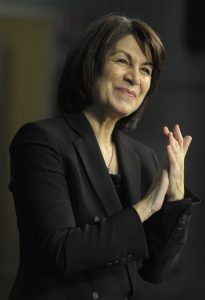 We don't have to present Claire Gibault (cf. her biography on Wikipedia [fr]). Rather than retell her career or speak about women's place in the classical music field, we preferred to discuss her numerous current events, spceially with her Paris Mozart orchestra.
The Paris Mozart Orchestra
Claire Gibault collaborated during 3 years with Claudio Abbado and the Bologna Mozart Orchestra, conducting rehearsals or replacing him on the podium. He naturally agreed for the creation of the chamber orchestra under the label of 'Paris Mozart orchestra' – site -['Mozart' standing for the orchestra's size]. "Did you know that orchestra is a feminine word in Italian?".
The Bologna Mozart orchestra's repertoire extended from the Baroque era (Giulano Carmignola was its first violinist) up to contemporary music. "I don't conduct baroque repertoire: there are many specalized ensembles in Paris and I don't feel fully competent, though I had been initiated to baroque music with John Eliot Gardiner ; I may be too perfectionist… Having been also Theodor Guschlbauer's assistant, I have conducted all Mozart's operas (Except Don Giovanni, but 185 times the Flute!. With our 45 musicians, our repertoire extends from pre-romanticism and further on".
Mélologues
"We create "mélologues" (from Italian 'melologo' : in Greek: music – melos, singing and language – logos, speech. This genre enjoyed great success by the end of the 18th century (Pygmalion byRousseau in 1770, then Lelio by Berlioz, then it disappeared before going back to life later on (L'Histoire du soldat, Jeanne au bûcher) and really reborn these last years, specially in Italy, reacting against both the bel canto and contemporary music which often prevents from understanding the text sung.
With the mélologue, we can give some listening clues and help understanding connexions between music and text, as for example with Soudain dans la forêt profonde, text by Amos Oz and music by Fabio Vacchi. Thus, the public really understands that contemporary music can create atmospheres or particular ambiances.
This is our 6th season with the orchestra creating each year a new mélologue and since 3 years integrating visual arts in our concerts. It is incidentally that Graciane Finzi was telling me "I have been wanting for twenty years to write music on Edward Hopper paintings"; she had found a book by Claude Esteban "Soleil dans une pièce vide" who imagined what were the characters thoughts.
Our projects must remain accessible to high school students but also to any public, cultivated or not. Natalie Dessay has developed the concept and found musicals or jazz songs to accomany other paintings; the show is entitled "Pictures of America" and has been recorded, the CD will be issued in December by Sony. Moreover, a lighting designer will stage the musicians and Hopper's paintings. We were pioneers in this kind of "hybrid" show and now it seems to interest a number of institutions!
Le first mélologue we gave was by Jean Français "Les Inestimables Chroniques du bon géant Gargantua ", then works by Fabio Vacchi, L'Orfeo by Sylvia Colasanti and coming soon a work by Edith Canat de Chizy "Peindre l'inaccessible" based on paintinfgs and writings by Nicolas de Staël.
Projets
2017 will see the creation of a spectacle around Pygmalion. Anton (or Antonín) Benda, a Czech composer (1722-1795) had created melodramas, among them a Pygmalion. Mozart was enthusiast about the clarity of the recited text. An order was sent to Philippe Hersant : 'Pygmalion, la ballade de Goethe", with illustrations by la graphic designer Sandrine Revel (who published "Glenn Gloud, une vie à contretemps").
Pedagogy
This kind of project is very rich: it allows in high schools to make work together music, literature or drawing teachers, which is not that frequent. We have other actions, for example in remote and / or disadvantaged areas in the Versailles academy; Right now, we lead a project on Nicolas de Staël and René Char, with avec A poetry contest between high schools. This allows students to learn about texts, music, paintings and many from immigrant backgrounds discover this way their own talent..
Viability
Our overall project does not really fit "in the boxes" at the level of the institutions. We use sponsorship , it is a sponsorship not only ardent, but that encourages us to do more! The foundations of companies or family that support us are in a way a family for us; Many are cross sponsoring: both artistic and sociological. Recently we were among the 15 projects selected by LFSE on 800 candidates from the Total Foundation and the Ministry of the City, which gives us a three-year visibility.
The musicians of the orchestra must sign a charter to be engaged, they are employed in fixed-term contracts with an equal salary. They are co-opted. The advantage of this formula is that it is easy to exclude those who do not adhere to the project or who do not have the required musical level … The artistic policy is decided collegially, like the recruitment of soloists. We have the chance to work in a warm atmosphere, with the involvement of everyone: if we give a program in Fresnes [a famous French jail], for example, they are all present! The same to travel in second class or to stay in Ibis hotels, or to stay half an hour more than planned to finalize a program.
The orchestra gives annually about 18 pedagogical or sociological programs and 15 concerts in various places (Cité de la musique, Le Mans, Metz …), with tours planned in Italy and Asia.
I progressively preface my succession and thus give conducting masterclasses. "
---
Claire Gibault insists on the level of quality of performances: "I prefer to work with quite a few musicians, but very talented, rather than with a lot of musicians, although I have conducted Mahler symphonies recently."
"And I think that the artistic renewal can come from small companies like ours, it ends up reflecting on the institutions."