Modern piano music by young performers

5 young women play modern piano music from Odradek records.
Aki Kuroda - 20th century transcriptions: Debussy, Stravinsky, Schoenberg, Mahler (2014) - Samples
Mei Yi Foo - 'Musical Toys': Gubaidulina, Chin, Ligeti (2011) - Samples
Mariann Marczi - 'Splinters': Ligeti, Kurtag, Bartok, Kodaly, Jeney, Caspo (2013) - Samples
Diana Gabrielyan - Stravinsky, Shostakovich, Babajanyan, Mansuryan (2014) - Samples
Yukiko Kojima - Akira Miyoshi (2013) - Samples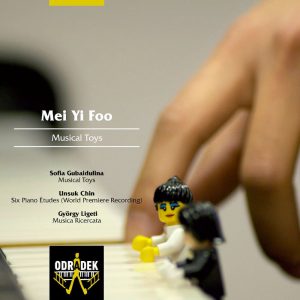 A very interesting CD by Mei Yi Foo 'Musical toys'.
The title comes from Sofia Gubaidulina's (1931*) 14 miniatures (1969) for piano, childish, poetic, technically diverse, sounded very much Debussy to my ears.
Then a world premiere recording, Six piano études (1995-2003) by Unsuk Chin (1961*). These studies build complex structures from simple material. The overall impression is of joyful and playful piano music.
Finally, Musica ricercata (1951-53) by György Ligeti (1923-2006), though composed early, while still in Hungary, don't sound for me as the cliché "neo-Bartokian", but surprisingly modern. Well-deserved praise for the Malaysian-born pianist Mei Yi Foo.
---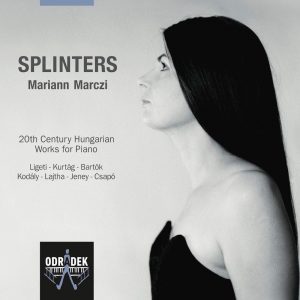 The title comes from György Kurtág's (1926*) 4 pieces Splinters (1978). These short pieces are rather simple but attracts by their resonances. 2 little pieces then, a charming Ligeti étude (Fém from Book II – 1989) and a Meditation sur un motif de Claude Debussy by Kodály (1907), based on a motif from the String quartet, superb unkown piece. The Seven pieces for piano (1910-18) present subtle harmonies in either French or Hungarian-folk inspired passages.
Then by László Lajtha (1892-1963) – (… de l'automne et du champ…) from Contes Op. 2, No. 10, Béla Bartók (1881-1945) – Trois Burlesques pour piano, Op. 8:c (1908-12), Zoltán Jeney (1943*) – Ricercare (1992) & Arthur Rimbaud in the Desert (1976) and by Gyula Csapó (1955*) – The Ultimate Goal (1986). The Lajtha shows a beautiful Schoenberg flavor; after the Bartók's three pieces played here rather quietly, 2 more recent Hungarian composers. The Jeney's Ricercare is a very static piece, his second one seems to be based on the same notes, its monodic pattern getting boring. The Csapó's one too… Anyway a altogether consistent recital, very well played.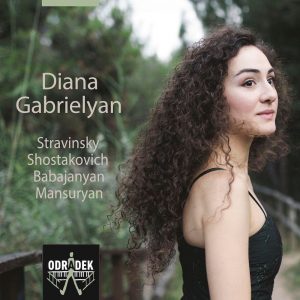 Igor Stravinsky – Piano Sonata (1924) – Piano Rag Music (1919) – Ragtime (1919) – Tango (1940)
Dmitri Shostakovich – Piano Sonata No 1 Op 12 (1926)
Arno Babadjanyan (1921-1983) – Elegy (1978) – Impromptu (1936) – Danza di Vagharshapat – Six Pictures (1965)
Tigran Mansurian (1939*) – Three Pieces (1970-71)
Superbe playing in Stravinsky's Piano sonata, especially the Adagietto, played in a music box manner. Maybe the 3 following pieces leck of some 'rag'. The Shosta's 1st sonata is certainly a good choice, since it sounds like inspired by Igor (and Sergueï). Very clean and authoritative piano playing.
Then the two armenian composers. Nine pieces by Arno Babadjanyan, the first 3 ones, rather conventional; the Six pictures are far more interesting, in their serial language allowing however very moving atmospheres (Chorale). A discovery.
The Mansurian 3 pieces emphasize on resonances, much in a Schoenberg / Boulez filiation (the sleeve says Boulez played once his music). Again a precious discovery.
---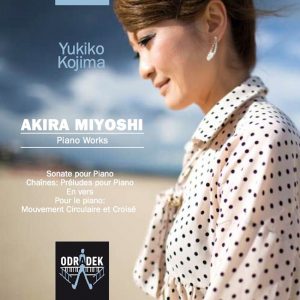 Akira Miyoshi (1933-2013) – Sonate pour piano (1958) – Chaînes, Préludes pour piano (1973) – En Vers (1980) – Pour le piano, mouvement circulaire et croisé (1995-96).
The Japanese composer Akira Miyoshi had studied in Paris in the 1950's, which can be spotted in his Sonate (Dutilleux), alternating very dynamic passages and suspended chords. A very attaching work. Chaînes present actually 24 préludes in 3 parts, I found them more exterior than the Sonata, as for En vers. Pour le piano, though presenting again many meditative periods sounds more imaginative and convincing. Superb pianist again here.
---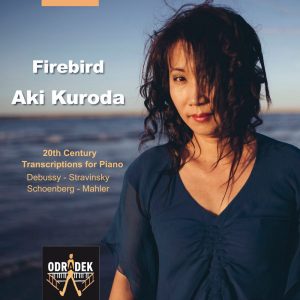 First, a rather disappointing 'transcription' or rewriting by Yoichi Sugiyama of Mahler's 5th Adagio, sort of sugar compilation. Not much better with Stravinsky's Firebird transcription by Guido Agosti: it needs fingers, we have them here, but no atmosphere neither any tone imagination.
Things are getting better with Debussy's Prélude à l'après-midi d'un faune transcribed by Leonard Borwick. A performance by itself, but a rather dull piano touch: no thrill, not much dreamlike atmosphere, just very good piano playing. The most interesting part is the Schoenberg's 1st chamber symphony transcribed by Eduard Steuermann, again a challenge. The pianist's virtuosity is undoubtful, I just think it lacks of some inner musicianship and style. I generally don't publish anything on this blog when I don't like the interpretation, but this belonged to a pack of Cds received from the same editor, and it's worth for pianists in quest of rare repertoire.
---
Interesting texts and very good piano sound all along.