Meeting the pianist Nicolas Horvath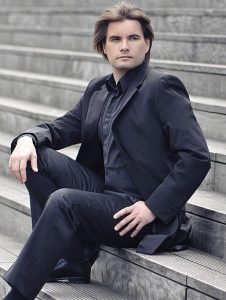 Nicolas Horvath - site - is an outstanding pianist.
A gifted young man, but not a child prodigy, he will launch late in career, will attend to numerous   competitions just before the age limit, to finally  soar these last years - for example his « one piano show »: a whole night dedicated to Philip Glass's music three weeks ago at the Paris Philharmonie…
Career path
Born in 1977 in Monaco from Hungarian and Italian parents, he only had one musician parent, his grandfather, who created the first jazz band in the south-east of France. He was offered to learn to play saxophone, but the little Nicolas was only interested in piano and organ. "Shy and solitary, piano was my mean of communication. At the Monaco Academy, I worked only to prepare competitions, but since I was pretty good in musical dictation, I had no problem" (only much later he will discover he has a perfect pitch). Descending from working-class parents, piano was considered as a hobby, he thought he would become either priest or video games tester.
A lucky star appeared when he was 14: he won a competition in Monaco with the Fantasia K 475: in the public, the conductor Lawrence Foster – his daughter was also participating to the competition – was overwhelmed by the young pianist et offered him to get a grant to go and study during three summers in the States. Finally, at 16, he will spend a first summer in Aspen, Colorado. ("At that time the big piano schools were the Julliard – Aspen participated of it, Moscow and Toho Gakuen in Japan"). There he "worked like crazy" and realized he would like to become a pianist…
He will play the Scriabine's concerto in Monaco (a first testimony of his taste for off the beaten repertoire) and was spotted by Brigitte Engerer playing Liszt's Funérailles
He worked for two years with the pianist Gérard Frémy ("He reduced his fees to allow me to buy some records – we had the same passion for historical recordings"); he made Nicolas discover musics by Schoenberg, Wyschnegradsky, Cage…
He will attend the Paris 'École normale' where "I stagnated". With his too much curious temperament, he was always proposing offbeat programs, which were refused by his teachers. "Keeping me playing pieces I didn't like, I became dried and played soulless".
He will meet Bruno Leonardo Gelber who made him restart from zero, assisted by Germaine Devèze ("Leaving the Spanish rapsody for the Heures du matin by Czerny was not easy…). To be able to do that, Gelber prohibited any concert or competition.
Not being able to use piano as means of expression, he turned to electroacoustic music (with Gino Favotti and Christine Groult in Pantin conservatories, or masterclasses with Christian Zanesi and François Bayle), which allowed him also to discover the musical avant-garde and an army of living composers he had never heard of.
Being almost thirty, at his grandmother's death he registered for the Scriabine contest only two weeks before ("by pure catharsis"), worked "as a mad man" and won the first prize to is surprise. Then he collected competitions and distinctions: Osaka, Nono, Fukuoka, Yokohama, etc.
During this period he met Oxana Yablonskaya, Leslie Howard – with whom he played two pianos pieces, Eric Heidsieck, Gabriel Tacchino or Philippe Entremont and attended numerous masterclasses ("on my first concerts bios, I was being reproached to do name dropping!"). He has made countless meetings with artists and composers with whom he likes to work, for example Denis Levaillant, Alvin Curran, Frederick Martin, Régis Campo, Michael Vincent Waller, Valentyn Silvestrov, Jaan Rääts… He has created works by more than 150 composers, almost on hundred dedicated to him (concertos, sonatas, studies, toccatas, preludes…).
Musical tastes
The first name he mentioned without any hesitation is Alexandre Scriabine: « when I play his music, I feel like being at home » ; following Christus he had a project of recording all his sonatas, but it failed. He tries to keep alive his curiosity as illustrated by his recent activities: a musical tour with all the Nocturnes by Chopin, then the complete piano music by Glass at the Philharmonie, a recital of estonian musics in Germany. He plans some concerts around Liszt and Debussy piano pieces.
For the pianists, he seems more interested int the pianists of the past, his absolute idol being Vladimir Sofronitsky. He would cite then Joseph Hofmann, Alfred Cortot, Walter Gieseking, Raymond Lewenthal, Sviatoslav Richter, Elly Ney, Arthur Schnabel, Youra Guller, Thierry de Brunhoff…
First recordings
He begins to set freely concerts programs, always adding a quarter dedicated to living composers – He will pay all Satie's music in Perpignan or Honfleur).

He recorded a chamber music album by Thérèse Brenet for JTBProd and then Christus by Franz Liszt for Hortus.

5 solo pieces (Debussy, Duchamp, Hersant, Catoire & Greif) on the double album « The French Avant Garde of the XX Century » for LTM, then, after a successful concert dedicated to Philip Glass, he was approached by Naxos to record this music.
Projects
He has been working for years on a project which will materialize for Naxos – Grand Piano Records: the complete works by Satie (based on the "Urtext"), in close collaboration with the two best experts of the composer : Ornella Volta and Robert Orledge: 9 CD, one per month. "It will be recorded on period instruments, for example an Erard from 1880 which belonged to Cosima Wagner".
Then the first volume of the complete sonatas by the estonian Jaan Rääts (world premiere) along with other estonian composers : the complete piano music by Karl August Hermann (1851-1909) (also a world premiere), the complete piano pieces and concertos by Erkki-Sven Tüür and Tõnu Kõrvits and other albums dedicated to the composers Mihkel Kerem, Renee Eespere et Lepo Sumera.
Finally, a project for a Debussy CD around which he maintains a great mystery… (but apparently no Scriabine, his preferred composer).
Here, his YouTube playlist.