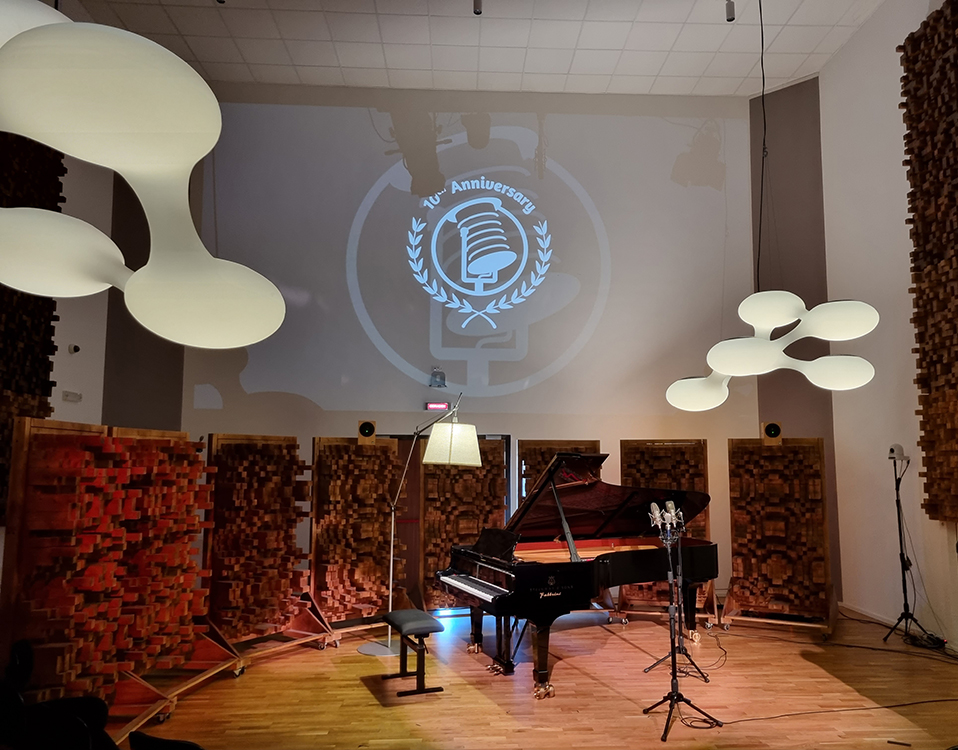 Pianists John Anderson and Pina Napolitano created the record label Odradek* 10 years ago. I appreciate a lot Pina's interpretations of the Viennese 2nd school and I met once John near Paris. I was surprised – and flattered – to be invited in Pescara (Abruzzo): I wondered how what I thought was just a little record editor could afford the expenses. In fact, Oradek has now many employees – in or from different European countries.
I will try to describe later on all the other Odradek activities, linked with data processing technologies.
Anniversary
We (European journalists and musicians) were first invited to visit the Italian most famous piano retailer Fabbrini.
Gilio Fabbrini, its founder, was Arturo Benedetti Michelangeli's exclusive piano tuner and Steinway pianos provider. Fabbrini's father was a piano technician and dealer and introduced Richter to Yamaha. But it was Angelo himself who was the technician to Michelangeli, and then of course Pollini. . Below are some pictures I took.
| | |
| --- | --- |
| Fabbrini's demonstration hall | |
| | |
But the the highlight of the day was the soirée given at the Odradek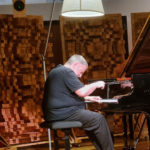 recording studio. You travel some kilometers from Pescara's center, arrive in an improbable artisanal zone and then discover this wonderful studio. And moreover there was an astonishing piano recital by the Portuguese pianist Artur Pizzaro. Never heard an Appassionata so convincing and I have heard many of course…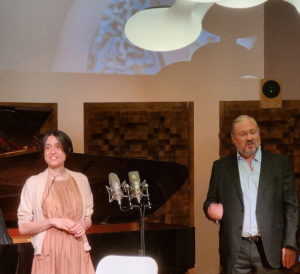 Pina Napolitano & John Anderson
Odradek activities
Recordings
Odradek has issued already 165 CDs, mostly classical, but also jazz and world music. But Odradek's originality resides in the way recording projects are selected :
"Odradek Records embarked on a new way of doing classical: put the artists in charge – a democratic, artist-controlled, non-profit cooperative, promoting new artists and fresh repertoire. Artists are selected through our democratic, blind judging platform, anonymuze.com, which means that the Odradek catalogue is based purely on outstanding musicality rather than image, publicity or background".
Several projects are monthly judged anonymously (through the "Anonymuze platform") by an ever changing panel of musicians. Effectively, each issued product presents a high quality level: artists, sound, booklet…
Of course, like for the other editors, many albums are co-financed by the artists or from patronage.
"Some artists consider a record as a sort of business card for their communication or just a snapshot of their idea of a certain repertoire at a certain moment. This is not what we are looking for at Odradek, preferring artists involved in a project, maybe rediscover some aspects of a score and participate to create a product of the best possible quality and making sense; this is why we give them a lot of time in the studio and we make them work very hard!" says John Anderson. "Of course, such artists as Artur Pizzaro for example enter the studio and record their program and it is done, but many artists can't do that and it is not necessarily a disadvantage, because you can construct a project with them: it is an act of creation and not just a photograph of a performance".
Like many people, John does not know if the CD support will still be existing in the future; incomes are now mainly coming from streaming platforms consultations. "Most sales used to be made in the US, UK, Germany, Japan & France, now UK should be the first one. For the future, a big project would be to record Moses & Aaron in a new version for 22 instruments & 24 chorus members and it would be a production which would tour. Maybe for 2024. Schoenberg's family is very happy about the project, as they were when Pina recorded last year a reduction of the Piano concerto".
In 2015 we decided we would position Odradek as a crossroad between music and technology. The first step was the Anonymuze platform. A rostrum of 33 people judge the music which has been sent to the platform and judge. I the vote is no, we even do not know who it was.
Then we developed "b.io" which is a service which aim to develope and communicate the best bio possible: "Artists, Scholars, Writers, Public Speakers, and all Notable Persons, B.io is a unique hub where you can tell the world about yourself".
This is a crazy and impressive project: the nuns from the Abbey of Jouques (France) have been recording for three years the entire Gregorian repertoire (the equivalent of around 7.000 CDs)… It goes with synchronized scores and texts (German, Italian, English & Spanish).
These chants are available from a web site or from mobile apps. The web site is also a pedagogical one. The product has already 16,000 users.
Sinfon is a platform designed for cultural associations which allow them to customize, manage and produce promotional content on web sites and on Android and Apple apps. Already 40 orchestras have subscribed to it. You can for example create an automatic link to let people listen a track on Spotify. Sinfon.io will soon have native streaming, meaning you connect your existing streaming account, and listen inside the orchestra's app.
While listening, you have booklet notes, videos, calendar, related recordings, up-to-date biographies, and anything else the orchestra wants you to enjoy while listening.
Vist. co (The Visual Storytelling Company) is a creative marketing and storytelling agency for classical music and related fields. It counts among its clients labels like Warner Music (Joyce DiDonato, Beatrice Rana…).
Further on
"We plan to develop a musical artificial intelligence application which allows to remix in real-time a stereo track". For example you can find in the market products with an orchestra playing a concerto without the soloist, so you can practice at home being accompanied. Here the idea would be to allow doing this without having a multi-microphone recording, just from the stereo track.
This has never been accomplished in classical music, and is cutting-edge, but it's possible, or will be soon. We hope to be one of the first to develop this.
* Odradek basically comes from a figure appearing in Kafka's short novel "The Cares of a Family Man" - See