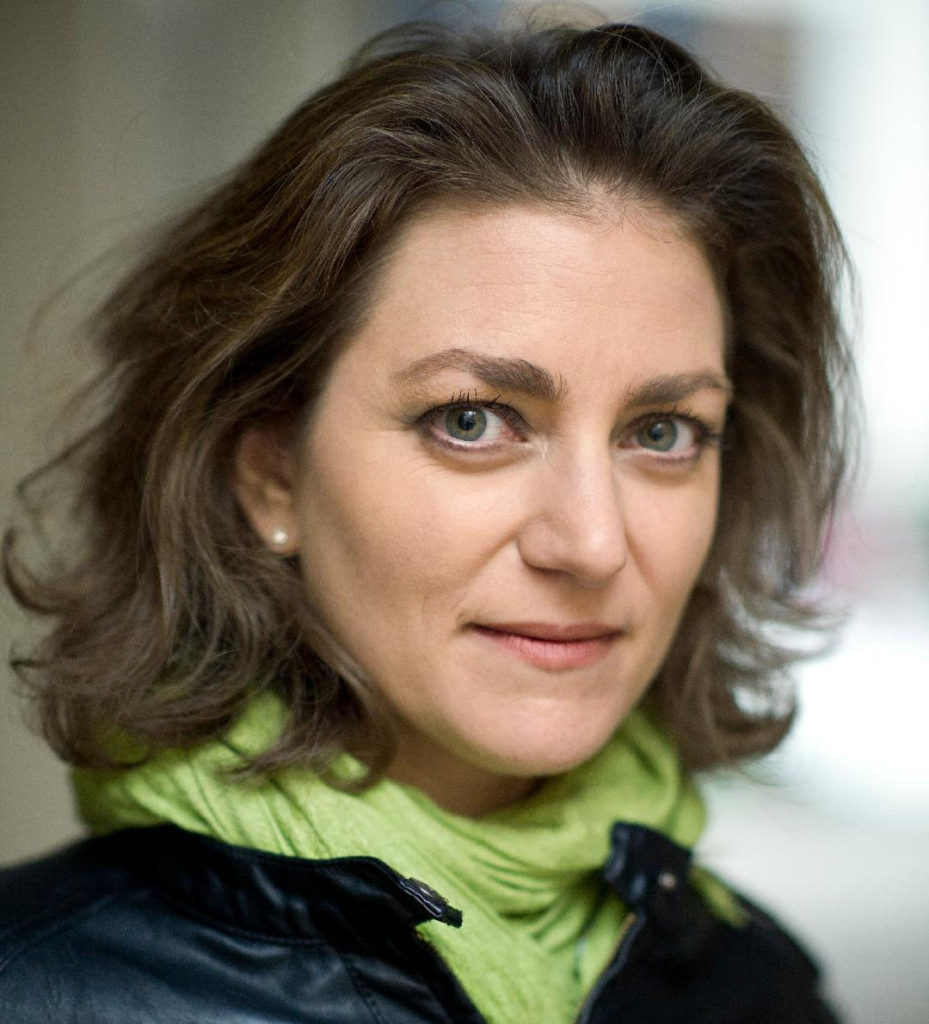 Aline Piboule Website – Photo credit: Jean-Baptiste Millot
Our meeting was made on a misunderstanding: I had to attend at night the concert of the winners of the Orleans Piano Competition with Maroussia Gentet, when I received a nice message thanking me for the article I wrote on a CD featuring Dutilleux's Sonata and saying "see you tonight". I thought it was the evening finalist though it was sent by Aline Piboule, who was laureate of the same competition in 2014, and I made a paper on the Piano sonata by Dutilleux by 'one and the other…
To forgive my mistake, I proposed this interview made during a lunch in the Latin Quarter …
Career
In her youth, one of the personalities that will have marked her is her maternal grandfather, violinist, professor of music history, founder and conductor of amateur ensembles – choir, orchestra in high school – which will have sparked many musical vocations. "When a student had insufficient marks, he was threatened to prevent him from attending sessions led by my grandfather …".
Daughter (she has a brother and a sister) of a father geologist and a mother professor of mathematics, she begins the piano at the age of eight in music school (Vizille) "at the time we had to do a year of solfeggio in CE1 and we could approach the instrument in CE2 … But in fact at the age of five I made recurring dreams in which I was a pianist". She will then integrate the Grenoble Conservatory, with Professor Daniel Berthet, a teacher of great humanity and disciple of Vlado Perlemuter. She will then join theLyon CRR in the accompaniment class with Marie-Cécile Milan, professor of a great requirement. "I always loved the accompaniment, which I practiced a lot from 13-14 yo at the Conservatoire with the other students: I loved this instantaneity, and the jubilation of being on a thread with my partners". It will then be the Lyon CNSM, first as for accompaniment. But after a while, not finding her account (too much time to spend on the technique of reduction of orchestra sight, transposition and not enough playing with other musicians) Aline applied to the piano class and entered unanimously at the CNSM Lyon, in the class of Géry Moutier. She will then participate in exchanges with Canada, following the teaching of Jean Saulnier "another fabulous teacher, immense pianist and pedagogue" at the University of Montréal, a Quebec institution of very high level for the piano, whose teaching stems from great masters such as Leon Fleisher, Marc Durand or Yvonne Lefebure.
After a first unanimous prize at the CNSM Lyon, Aline entered the CNSM in Paris in a development cycle with Hervé Billaut, himself a former student of Leon Fleisher.
"I did not follow many master classes (Ivry Gitlis, Jean-Claude Pennetier, Anne Queffélec …) preferring long-term relationships with my teachers".
At the same time, she was accompanist of Daniel Ottevaere's great class of singing at the École Normale "I loved it deeply: accompanying the big operatic arias and singers in general helps develop a certain sense of the musical line. bound to the body, to breathing, and thus learns a certain type of very natural rubato. "
Very attracted by the relationship between music and other arts, she has for several years participated in various multidisciplinary projects including musical theater and dance, thus favoring encounters and atypical projects. From these experiences she gets her taste for breaking existing boundaries and the habits of classical concerts.
From this desire is also born her collaborations with many living composers (Henri Dutilleux, Hugues Dufourt, Philippe Hersant, Benoit Menut, Jerome Combier, Martin Matalon …) as well as with the contemporary music ensembles: Court-circuit, l'Itinéraire or 2E2M.
After these few years to enrich her relationship with others, Aline decided to refocus exclusively on solo piano repertoire and chamber music.
"In 2014 I decided to pass the International Piano Competition of Orleans. A completely atypical competition, which allows to propose very personal programs on the music of the 20th and 21st century. I was able to interpret Rachmaninov, Fauré, Crumb, Ohana and Boulez as well. I finished second in the competition with five awards, which allowed me to develop my solo career thanks to the strong support that this competition brings to the organization of a tour of the laureates."
Repertoire
"From Bach to today, I do not want to be a specialist in anything: I just like playing music alone or with other musicians. I do not have a strong preference for this or that repertoire or rather my preferences change according to the periods of my life. At the moment I have a lot of fun immersing myself in the French repertoire: Fauré, whith complete Barcarolles, Debussy, Franck, essential composers. But also less played composers and yet real goldsmiths typical of French music of this period such as Déodat de Séverac or Guy Ropartz.
I am an instinctive, I need to feel fully in sync with the works I interpret when I decide on my solo recitals programs. For example, until I was 25, I did not understand Debussy's music at all, while Chopin's music spoke to me completely.
In my opinion, working with live composers may have allowed me to go beyond the family model, because I always heard my grandfather say that the great music stopped at Berlioz! (Laughter)
Playing contemporary music was for me also a political and militant gesture. I believe that the French society, based on a system of public service and solidarity among fellow citizens has allowed me to follow a high-level musical education, free of charge. I come from a modest background, so I consider it natural and necessary to give some of my time to living composers, such as a loyalty to a system that I benefited from."
"I often build my recitals programs around themes that are not necessarily musical, and I like to look for how one work can illuminate another one. Finding links between works, mirroring them is something that fascinates me. This is what led me recently to record a record comparing works by Gabriel Fauré (Ballad, Theme and Variations) and sonata Henri Dutilleux. I like to present these programs orally to the public during my recitals, because it creates a warm and human connection, which goes beyond the traditional framework of the piano concert which can sometimes be somewhat cold and distant."
Pianists
We share the same admiration for Arcadi Volodos, Aline Piboule then willingly quotes Martha Argerich or Wilhelm Kempff, Marcelle Meyer, Yvonne Lefebure "but there are many French pianists that I appreciate, including Philippe Cassard for his art of phrasing".
Projects
"It's been in standby for a few months, since I'm going to be the mother of a little boy soon! I resume the recitals from the month of July, including the Radio France Festival in Montpellier, Rencontres Musicales Noyers-Sur-Serein, and the Musicales of Normandy. "
Several disc projects are on the way and are waiting for a label ready to follow in his adventures: the music of Fauré, but also Debussy, with a very successful transcription of La Mer for two hands which Aline Piboule is 'unique performer: "I have often performed in concert and it is always a pleasure to feel the enthusiasm of the public for this absolute masterpiece. "