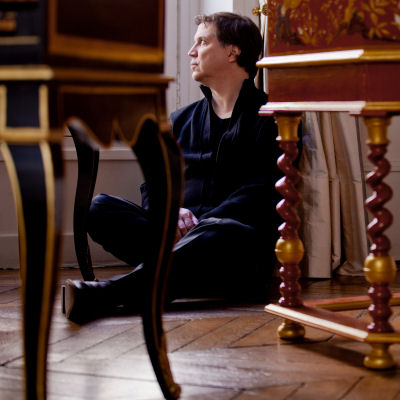 Meeting Skip Sempé [FR]
No I have not changed radically! The few readers of this blog me know that I advocate for contemporary music. Not being fond of 'Baroque' interpreters and being even less well informed on them, I was a little reluctant to do an interview of this famous artist. But listening to his last recording – a new version of the Mass for the dead by Jean Gilles – beat my reservations.
Skip kindly received me in his apartment near Notre Dame (photo).
Contemporary music
TV: You know, I'm an amateur journalist, and my blog is rather devoted to contemporary music …
SS: I hate contemporary music !!! [it started well …] I'm interested in music from 1900 to 1950. I think Wanda Landowska has more revolutionized music than Pierre Boulez … The generation of composers after 1945 (ie born before the death of Richard Strauss in 1949) has emphasized verticality versus horizontality. Their conventions have emerged in conservatories, sweeping 1,000-year history of Western music. For example, the second Viennese school is completely out of the Viennese classical setting. I do not like that imposed aesthetics, this general stiffness. When you think that the modern violin for the E string, uses an harpsichord string …
Recordings
TV: I don't have a perfect pitch, but my sensitivity to the pitch grew up listening to contemporary music: I recently did a compared listening of the orchestral version of Ma mère l'oye, The latest version was by van Immersel: beautiful version, but the violin solo is out of tune almost all the time …
SS: Accuracy is a delicate question: for example, I do not like that during an attack all instruments start exactly together …
[Skip experienced music through vinyl's and is a fan of recordings; he gets up to get the latest CD of the magazine Diapason:] Satie by Poulenc: there is no better: the French side, the humor, the false seriousness: it's all there! And this Debussy by Monique Haas! The problem is that the publishers, from the fifties to the seventies, including French ones, purposely hid the recordings of the great performers of the past to promote new artists. Fortunately, the French have the cult of the dead: we cannot imagine an American or British music magazine with Kathleen Ferrier on its cover, as was the case with Diapason. [We did not have time, but I think he would have been inexhaustible on Horowitz or Rachmaninoff …].
Concert halls
TV: Your recording of the Messe des morts by Jean Gilles was made in Bruges in a highly reverberant church (2 seconds?). What about your upcoming concerts at the Oratoire du Louvre?
SS: Not 2, but 7 or 8 seconds! The miracle in this church is that despite this very strong reverberation, the sound does not roll and is always intelligible. We will give this work to the Oratory of the Louvre because it is the place of the creation of this version – at the time it was a Catholic place before Napoleon changed it in a Protestant place in the early 19th century. The slightest reverberation of this place will not be a problem. The only problem is the gauge: when you count on the orchestra, the choir and the staff (around 70 people), plus guests, there's not a lot of places left … ditto for the Erard room, in which Liszt played among other great musicians: major Parisian piano makers (Gaveau, Pleyel) had their music room. This is why there will be two concerts at the Oratoire and 2 sessions of 2 days at the Erard.
Next year the concerts will be given in St. Louis en l'Isle church.
Business models
TV: Orchestra(s), recordings edition: how do you manage these business?
SS: The main source of funding comes from sponsorship, American or European. I could not bear to be forced to cancel something with respect to my musician friends because of a sudden lack of funding. I have the chance to program from now on my concerts and recordings in my good-will. I think that general audience's repertoire doesn't exit, but general audience's artists for sure (Cecilia Bartoli, instead of a Mozart CD can afford to make a Salieri CD for example). Orchestras often do not want to risk and recording industry reflects that.
Soloist / Conductor
TV: We know many pianists who have become conductors at the expense of their pianism.
SS: I do not have a problem with this: I practice the instrument at the prospect of a concert. There, I play continuously for a few weeks, but this rarely happens: you have to bring the harpsichord with you! But I have no digital problems. For conducting, like my colleagues, we are 'self taught', but above all musicians.
Projects
TV: What are your projects for the following months?
SS: Certainly Monteverdi's Vespers and Orfeo. For me, the existing versions on CD sound more or less the same way. Interpreters of baroque music were heavily influenced by the Harnoncourt's vinyl's. I think our ensemble is able to interpret the music of the 1600s or 1700s, it is perhaps even better for the 1600s.
For Orfeo, one of my hobbies is the stage setting. I won't ask for candlelights (as Leonhardt with Poppea in Nancy ), but I design sets in compliance with the period. It will be done with the Capriccio Stravagante Renaissance Orchestra, instrumental forces rather large, but I have to find the tenor!
————————————————————————-
Note the thick book "Memorandum XXI", very informative and documented. A significative extract: "Many so-called Baroque orchestras' these days couldn't care less about applying this essential technique [mastery of resonances], so these orchestras are effectively modern groups playing on period instruments. I only mention this because Cappricio Stravagante has set out to do something that is radically opposed to this standardized way of thinking. The instruments themselves are not enough".