Liszt – Die Ideale – Rafael Kubelik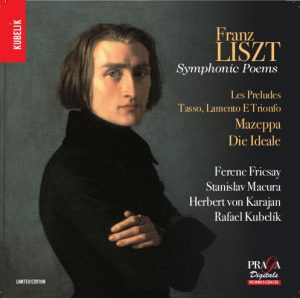 Kubelik gave Die Ideal in Munich on May 9/10 1974. he conducted very seldom Liszt's music: Totentanz with Michelangeli and Freire (the last one during the same evenings), 1st concerto with Michelangeli, 2nd with Arrau and these Ideale. There were also, in line with his innovative programs (followed later on for example by Abbado in Berlin), Exorzismus eines Liszt-Fragments by the Munich composer Peter Jona Korn, work created two years before by Steinberg in Pittsburgh.
Pierre Barbier confided to me that he had to invest more than usual to restore this radio band: changing pitch, "klongs" probably caused by shocks on the receiving antenna… All this has disappeared and we obtain here the best possible result. Even if there are one or two hesitations of the orchestra, it is a magnificent reading, with the engagement and the orchestral colors in the somewhat rhapsodic style of Kubelik who knew like nobody to make sound so many different repertoires. Only these Ideals (Die Ideale, the 12th and longest of Liszt's symphonic poems, 27 ') deserve the acquisition of this SACD.
But this CD of Liszt's Symphonic Poems – announced as "Volume 1" – also includes two classical recordings: Les Préludes by Fricsay and Tasso by Karajan, the first superb of colors, of wit, sometimes a little metronomic, the second with orchestral panache. Less is known Stanislav Macura, a Czech leader born in 1946, who was (is?) a conductor at the Moravian Theater in Olomouc (let us recall the superb integral of the symphonic poems of the Hungarian Arpad Joó). His Mazeppa with the Prague Radio-Symphony Orchestra – 1960 – is a very beautiful piece, with very successful characterizations.