Furtwängler conducts Schumann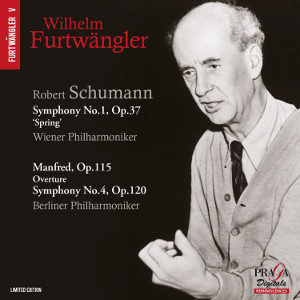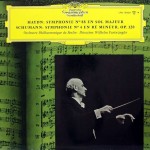 One wonders if these interpretations, marketed today with an actual sound, under a fake name, would encounter the same success as did this 4th for example. The advantage of the PragaDigitals reissues is to be able to make ones own opinion, since the transfers are probably the best possible.
For Furt aficionados here are the track details :
Symphony n°1 "Spring" op.38 – Munich, Kongressaal der Deutschen Museums, 19 October 1951, Bavarian Radio
Manfred overture, op.115 – Wiener Philharmoniker – Berlin, Titania Palace, 18 December 1949, RIAS Berlin
Symphony n°4 op. 120 – Berliner Philharmoniker, Berlin, Jesus-Christus-Kirsche, 14 May 1953 ("studio")
I suppose the two first tapes were concerts made for radio broadcasting purpose since there are no public noises. The Manfred's take is surprisingly better than the symphony n°1.
Pros and cons:
Cons:
They don't play together (beginning of the 1st for example). Karajan, and Kubelik in a slightest way will often get the same effect. The oboe sounds ducky for the Vienna Phil. (still does these days).
Tempi seem often too slow, at least hearing the beginning of some movements, sensation you forget quickly.
Tempi change, or are adaptative: you never feel the bars.
The pitch seems to be low: orchestral tuning has heightened again since…
Pros:
The essential: Moving lectures, a real conception of the works, a 'full' sound, never any sentimentality or idiosyncrasy (like some conductors nowadays giggling towards a flute player for example to show off…). Furtwängler believed in 'improvisation': every single minute is alive here! His transition in the last movement of the 4th from Langsam to Lebhaft is famous and listen to the end, taken in an irresistible speed… There has been other kinds of interpretations, this one is just unforgettable.