Miroslav Srnka – Chamber music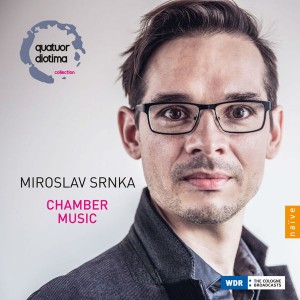 2 years ago, I wrote, having heard Les Adieux by Miroslav Srnka : "a composer to follow absolutely. "
Well this is what is happening s for the recent creation of his South Pole opera at the Bayerische Staatsoper with no one less than Rolando Villazón, Thomas Hampson and Kirill Petrenko.
4 works gathered in this room CD interpreted by the famous quartet Diotima or its members, with Wilhem Latchoumia at the piano. Programme :
Pouhou vlnou for Piano Quintet (2008)
Engrams for String Quartet (2011)
Tree of Heaven for Violin, Viola and Violoncello (2010)
Simple Space for Violoncello and Piano (2010) :
un panorama des formations de chambres les plus usitées.
Why this title? First, despite a very contemporary syntax, sometimes we can not help but think of his illustrious predecessors Dvořák, Janáček and Martinů and his language often uses bow beats that recall the life of a swarm.
Pouhou vinou – a title borrowed from Dvořák's Rusalka. The author speaks of "dynamic waves", I rather hear my bees … but dynamic, the play certainly is, it is full of ideas – which can be found also in Simple Space, as well as some similar chords at the piano (which sounds rather dull, probably with its lid closed).
Engrams: composers are never far from mathematics: if a Manoury for example is fascinated by fractals, Miroslav Srnka is by Bezier curves. A work with a very tense language, with a surprising sort of tonal choral at 2/3, a stimulus for this piece more than 22′ long.
Simple Space regularly involves a piano chord by Messiaen which punctuates the voluble cello speech . Ways of playing written for the soloist modes are unprecedented, yet we listened recently many of them here, there or there … It's a very fascinating piece, with a almost magical lyricism.
Finally, for me the masterpiece of this CD: the trio Tree of Heaven, the most "Janáček" piece, a marvel of expressiveness even in its microtonal syntax.
A great CD.