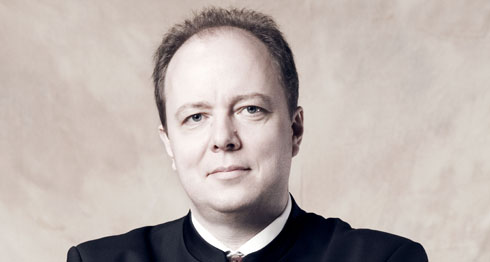 Meeting with Nicolas Chalvin
We could appreciate the talent of this young chef on May 22 in a Mozart program at Gaveau. His face gives a self-control impression, but also a high sensitivity. The duration for this encounter was unfortunately very short, otherwise I think we could have a good time to mention our musical joys from great conductors of the past …
 The Oboist
Nicolas took courses in music around 8-9 yo, his young teacher practicing oboe; so it was natural he would turn to this instrument. He will turn in a great soloist, becoming oboe solo at the Orchestre National de Lyon and the Luxembourg Philharmonic Orchestra. Since he conducts, he rarely practice the instrument. He agreed with Pierre-André Valade, a former flutist of also a high level before turning to conducting, who told me: « we reach easily from 80 to 90% of our previous level but only the missing percentages are interesting, » adding: « The oboe is a bit like riding a bike, you don't forget how, but you have to take into account all the craft time spent in preparation of the reed.»
The oboist has nevertheless a perfect situation to observe the life of the orchestra and … its conductors.
 The Conductor
 His wife is choirmaster at the Opéra de Lausanne, so he began to occasionally replace the conductor for rehearsals. His career as a conductor then started in 2001 under the auspices of Armin Jordan and Franz Welser-Möst. But he claims, despite some courses, to be self-taught « conducting can be learned in five minutes, there really is only working on the job. »
As he shares my admiration for Raphael Kubelik, I asked him if it made a difference in conductors having had prior training and practice violin for example, or wind instrument or « simply » piano . For him, as regards the strings just clear the heads of rank that you want without trying to then enter into technical details – or it must have been a musician for an exceptional level afford to give technical advice!
 We did not have enough time to deal with aspects of his repertoire – which goes for Opera Messenger to Dusapin! It is divided equally between the symphonic and opera: « You can imagine the pleasure of accompanying a singer like Sophie Karthauser the other night? ».
 The Orchestre de Savoie
 He leads the orchestra since 2009. His dearest project is to develop the directory and the public.
The band currently consists of 23 permanent members: 19 strings, two horns and two oboes. His greatest wish is to reach the size of a « training Mozart »: wood 2, trumpet and timpani.
 The band is currently funded at 70% by the Association Pays de Savoie (General Council of Savoie and Haute-Savoie), the State and the Regional Council to the tune of around € 1.3 million yearly, 30% being generated by ticket sales (compared with a ratio of 90 to 95/10 to 5% for the majority of French orchestras similar …). Not having a rehearsal halll the orchestra occurs only on tours; a program given 4 or 5 times on 2 to 3 weeks in different places; he leads the orchestra from 40 to 50 times per year over the 90 annual concerts training.
 Finding partners orchestra patronage is now a priority for both being less dependent on institutional subsidies, sometimes lower ticket prices and ensure a sustainable financial equilibrium: the law will oblide on 1 July to occupy instrumentalists 70% of their time, while the average is 40% today. For him the orchestra is an ambassador « inside » in the region to bring the public to the music but also outside; he gives tours abroad, including Switzerland and Italy.
 Conductors and orchestras
 When asked what orchestra he would dreato conduct he asked me « which one would you think of ? » « Vienna? » « Obviously, must still you have something to give them; I am very pleased with the orchestras that I lead, the main thing is to make no concessions – but I would be tempted to run a day Concertgebouw».
Asked about his pantheon of conductors: « First it is a pantheon in the literal sense … I can name at least twenty, but probably at the top Furtwängler and then Kubelík. And one last tip. « listen to the Sinfonia da Requiem by Britten conducted by Rudolf Kempe, it's beautiful ».
Good (s) wind (s) to the orchestra and its leader!