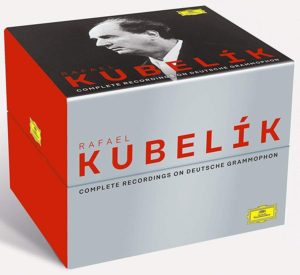 Being one the "Kubelík specialists" – see www.kubelik.org , even though I had every single disc, but I could note prevent myself to get this new box : 64 CD + 2 DVD.
Let's begin with the shortcomings:
I hoped more substantial notes by Rob Cowan, a renowned 'Kubelikian'. Specially no information why Kubelík got 'fired', DG preferring to concentrate on Karajan, Abbado & Bernstein… I read once that in 1974 DG was doing a survey, asking their main artists what was their favorite DG recording; since RK didn't know any (and never listened to any), he just mentionned the quality of Pinchas Zukerman who he had conducted some time before…
The editor took a picture from the DG LP with Dvorak 7: a drawing showing cows which Kubelík found inappropriate and got withdrawn.
No libretto for the operas…
Anyway the good news:
Almost everything he recorded forDG so,
Plus finally the reissue of his interviews on Mahler, alas most in German, no text translation of course.
2 DVD : concerts: Mozart 38, Beethoven Leonore III (weird video with backstage effects), Beethoven 2 & 3, Bruckner 4 with a rehearsal and a very good documentary.
For the rest :

One of the best complete Beethoven (I recall an article written at its issue saying it was much better than the Carlos Kleiber 5 issued at the same time, with which I agree).
The best Dvorák ever (except first symphonies and symphonic poems, a lttle bit underweight), as forJanacek (along with Firkusny), Mahler (except the 6th), and the Schumann.
I guess he had to record 'hits' which propably allowed him to record Hartmann, Martinů, Martinon, Techrepnin or Kubelík himself; Grieg's concerto, Haendel or de Falla.
The Bartók's concerto is a beautiful one but doesn't match his 1959 EMI recording as for Ma Vlast in Boston, by his live concerts in 1990 in Prague or 1991 in Tokyo.
Two unpublished recordings : Gluck and Haendel excerpts with Wunderlich and Prey.
Two forgotten recordings: Haydn's Missa in tempore belli and Weber's overtures (1964, Karajan will do them in 1974 for DG)
Most operas are first choices, we still regret he had never been asked to record any Janacek or Smetana operas.
The sound has been always problematic: original tapes must have been very good but often warmth and dynamics seem as filtered (basses and timpani in Mahler for example). I have to compare for instance the Beethoven symphonies with the first CD issue, the "rare recordings" one, the present reissue and the reports made by Pentatone some months ago.