Palestinian musics for piano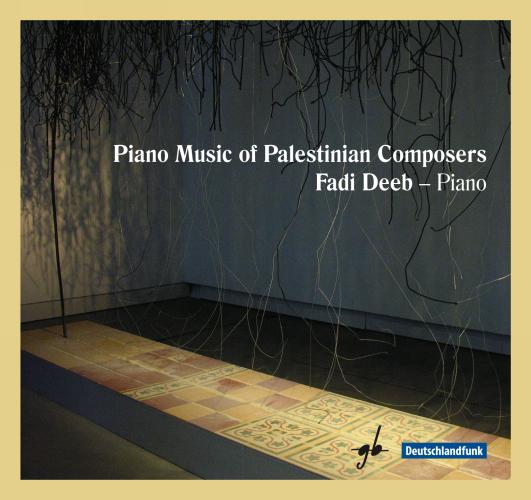 There are so many publishers or artists looking to get off the beaten track, producer and publisher Gideon Boss has done it beautifully. And this Israeli producer has chosen to illustrate composers of Palestinian origin; Based in Germany from now on, he had produced the Tchaikovsky CD and 2 albums from the International chamber music Festival of Jerusalem of Elena Bashkirova.
Web site – To get the CD : FNAC or Amazon
Salvador Arnita (1914-1985) - Introduction and oriental Danse n° 1 (1942)




Samir Odeh-Tamimi (1970*) - Eine Erinnerung für des Vergessen (2006)







Amin Nasser (1935*) - Sonata n° 5 (2002)







Mounir Anastas (1963*) - Petite étude pour la paix (2001)







Habib Hassan Touma (1934-1998) - Suite Arabe (1960), Taqsim (1966*) 
Patrick Lama (1940*) - Huit variations sur un thème palestinien (1983)







Wisam Gibran (1970*) - From Silence to Silence (2002-2009)






Nasri Fernando Dueri (1932*) - Memories of Bethlehem (1952)


 
 



Fadi Deeb, piano
The great majority of the composers mentioned in this CD made their musical education outside their country of origin. The variety of styles probably makes it impossible to speak of a "Palestinian school", if not a kind of gentle melancholy.
The oriental dance of Salvador Arnita is in the line Liszt Saint-Saëns with beautiful Arabic touches.
More modern, "a memory for the forgotten" by Samir Odeh-Tamimi uses opposing registers, clusters, as well as a bamboo chime and a Chinese cymbal.
The serene 5th sonata of Amin Nasser is a more tonal work, very representative of this sweet melancholy that I quoted.
Mounir Anastas' Little Study for Peace, in spite of a more modern syntax and a greater rhythmic and dynamic ambitus, leaves us in this same atmosphere.
The Arab Suite and above all Taqsim by Habib Hassan Touma evoke the maqâm, a way of managing the melodies and intervals inherited from Indian ragas.
The Eight variations on a Palestinian theme by Patrick Lama of a constant mezza voce and their relative complexity distill a very calming atmosphere very engaging.
From the silence to the silence of Wisam Gibran is in four parts from which emerge a dreamlike impression.
Finally, the Souvenirs of Bethlehem by Nasri Fernando Dueri are rather light music, seemingly played in an unlikely bar in Bethlehem.
A very beautiful initiative, interpreted with a beautiful commitment by Fadi Deeb and a booklet documented and precise.