Nineteenth Jerusalem International Chamber Music Festival – First concerts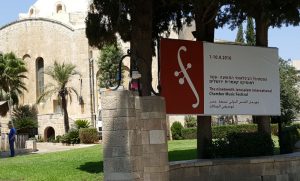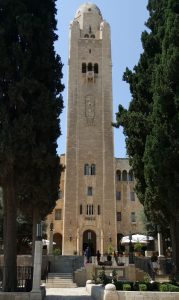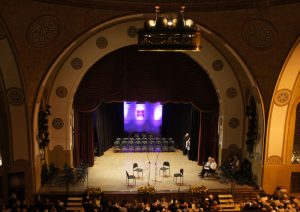 The Jerusalem International International Chamber Music Festival was created by pianist Elena Bashkirova, its Artistic Director. It gathers the best international chamber music players for no less than 14 concerts in 10 days. Among invited artists: Alexander Sikovetsky, Igor Levit, Nelson Goerner, Nobuko Imai, Edgar Moreau, Michelangelo String Quartet, Andras Schiff, Yuko Shiokawa, François Leleu, Paul Meyer, Kolja Blacher, Rainer Honeck, Louis Lortie, Martin Helchem, Eric Le Sage, Menahem Pressler, Emmanuel Pahud…
This year's programmation celebrates 3 anniversaries : Reger, Busoni and Shostakovitch. Located in YMCA of Jerusalem, the Mary Nathaniel is a superb Hall of a capacity of around 400 seats, with a terrific acoustic: even seated on the last row, sound is clear, vivid, well-balanced.
(First concerts report here)
Saturday morning
Prokofiev – Sonata for 2 Violins in C major, op. 56
Latica Honda-Rosenberg, Alexander Sitkovetsky violins
Shostakovich – Piano Quintet no. 2 in G minor, op. 57
Plamena Mangova piano – Alexander Sitkovetsky, Daniel Austrich violins – Miguel da Silva, viola – Frans Helmerson, cello
Prokofiev – Violin Sonata no. 1 in F minor, op. 80
Latica Honda-Rosenberg, violin – Nelson Goerner, piano
The Prokofiev Sonata for 2 violins (1932) is a masterpiece, a challenge not to boring the listener in such a configuration. The two violinists, though very different from each other, were at the same time competing and being so close, in a perfect mutual understanding, perfect intonation too. Definitely Alexander Sitkovetsky (the nephew of the violinist and conductor Dmitri Sitkovetsky) will have been one of my revelations during this festival.
Excellence will be reached again with the Shostakovich's Piano Quintet no. 2, (1940) played in full-tone and with dynamism, a perfect equilibrium piano / strings, swinging tempi and a touch of humour from the pianist.
The Prokofiev's first sonata (1946) was also very well rendered, with a superb atmosphere in the Andante.
The programme concluded with Shostakovitch's Suite on Verses of Michelangelo Buonarroti, but we had to leave. This is another example of the smart programmation by Elena Bashkirova, confronting two apparently close composers.
Saturday evening
Kodály – Duo for Violin & Cello, op. 7
Mihaela Martin violin, Pablo Ferrández cello
Leef – 'Yearning' for Clarinet & String quartet
JCMF Commission (Israeli premiere)
Chen Halevi clarinet – Alexander Sitkovetsky, Daniel Austrich violins
Hartmut Rohde viola – Tim Park cello
Chopin – Cello Sonata in G minor, op. 65
Edgar Moreau cello – Plamena Mangova piano
Liszt – Songs
Marina Prudenskaya mezzo-soprano, Nelson Goerner piano
Bartók – Piano Quintet in C major, Sz. 23
Plamena Mangova piano – Mihaela Martin, Daniel Austrich violins – Nobuko Imai viola – Tim Park cello
The Kodaly Duo for violin and cello (1914) may be a little more known than the Prokofiev sonata for two violins given yesterday. The soloists played it with a great clarity, not exaggerating its potential expressionism.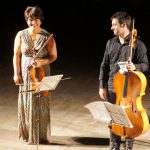 The Israeli creation of Iman Leef's Yearning for clarinet and string quartet was kind of a conversation between the strings with and around the soloist. It has a moving atmosphere and is certainly a valuable addition to the instrument's repertory. One always wonders why a pupil of Berio (among others) write nowadays in a kind of Schoenberg's early works style. Again, Chen Halevi displayed his mastery.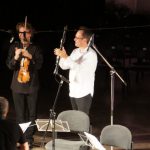 The French cellist Edgar Moreau had a great success with the Chopin's cello sonata (1847) with the elegance of his phrasings and the purity of his sonority; only the complicated 1st movement wasn't clarified enough, but it is the case for most interpretations.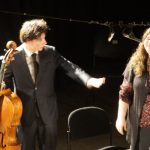 As she mentioned in her interview, Elena Bashkirova insists on including Lieder in the programmation. Liszt's ones are still rather unknown, though rather lacking of clear lyric lines, they have a real poetic appeal, well rended by Marina Prudenskaya.
Finally, another characteristic of the Festival: bringing unknown or forgotten works to the public; this was the case with Bartok's Piano Quintet (1904). I is in an early style of Bartok's music, sort of hungarian Brahms with czardas. It was played with investment and energy and shown a rather surprising romantic lyricism.
Sunday evening
Bruch – From 8 Pieces for Clarinet, Viola & Piano, op. 83
Chen Halevi clarinet – Miguel da Silva viola – Nelson Goerner piano
Brahms – Clarinet Trio in A minor, op. 114
Chen Halevi clarinet – István Várdai cello – Denis Kozhukhin piano
Reger String Trio no.1 in A minor, op. 77b
Rainer Honeck violin – Hartmut Rohde viola – István Várdai cello
Reger – Lieder
Robert Holl bass-baritone, Louis Lortie piano
Brahms – Piano Quintet in F minor, op. 34
Kolja Blacher, Latica Honda-Rosenberg violins – Miguel da Silva viola – Tim Park cello – Kirill Gerstein piano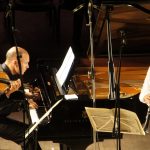 The last concert we attended confrontated Brahms and Reger
Three of the 8 pieces for clarinet, viola and piano, played standing by Chen Halevi and Miguel da Silva, presented a superb association between the two instruments with a fresh nostalgy, sometimes even fairytale.
István Várdai and Denis Kozhukhin joined Chen Halevi for the Brahms Clarinet trio (1841). Impressive full sonority for the first ans dynamic control of the second to match his partners' sonority.
Reger String Trio n° 1 (1904) is also a masterpiece, played with great transparency by Rainer Honeck and his partners. They were even facetious in the scherzo, though Reger's joyfulness is rather 'second degré'….
Even lesser known than the Liszt's ones yesterday, some Reger Lieder were sung and invested by the experimented Robert Holl. Superb accompaniment by Louis Lortie, one of the best piano sound heard up to now. He told me after how the piano part was difficult "it took some time to sort out things…".
But the "clou" of the concert was the Brahms Quintet op. 34 (1862). I was right to ask him an interview: Kolja Bacher was certainly for a great part in this extraordinary interpretation, but all players were good, with a special mention to the pianist, Kirill Gerstein, who had to replace on spot a missing Igor Levit and although mastered his so difficult part. Fusion of the players, precision, magnitude: an absolute must. I have been to many concerts, this one will stay in my mind among very few.
How sorrow you feel to have to leave : there will have been 61 works played, from 35 composers, played by 48 musicians… I told people around me I thought naming my article "The Mecca for chamber music", but it would have been rather unpropriate…
Many thanks for the Jerusalem Press Club.
Concerts are broadcasted live here.