Kubelik – Mahler – Das Klagende Lied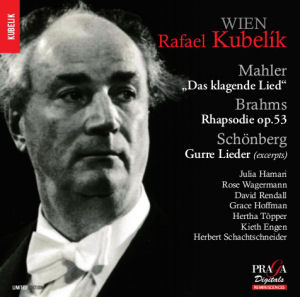 At this time, this SACD is not available yet, but it should be within some days. I must acknowledge being at the origin of this publication. I sent many Kubelík's concerts to Pierre Barbier [many thanks to him!], and often got "this one has a too bad sound, this one has incorrigible drops, this other one shows rhythmical errors" etc. Finally he chose this concert, completed with two other concerts in the Herkulessaal in Munich: the Alt Rhapsody and excerpts from the Gurre Lieder.
This is in my opinion the best lecture ever of Das klagende Lied. As Kubelík said once "you still need some humus for something to flourish, without becoming manure". You can get more refined versions on the market, but more alive, I doubt it. I've been collecting all his concerts data for years: apparently he conducted this work only on 2 evenings of June 1979 in Munich…
It doesn't comprise the previous first part Waldmärschen: Mahler withdrew it. Same for the 10th; highly respecting Mahler, Kubelík always refused to conduct one of its reconstitutions, as for Bernstein, Solti or Haitink.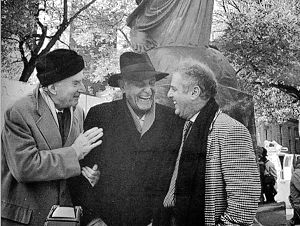 The three singers Julia Hamari, Rose Wagermann (Wagemann ?) and David Rendall are perfectly suited to this score and it features also the best symphonic choir at least at that time, the Chor des Bayerischen Rundfunks prepared by Hanz Mende.
The radio broadcast has been superbly restored, even if it preserves its hiss.
The SACD is completed by the Alt Rhapsodie by Brahms, superbly sung by Grace Hoffman and excerpts of the Gurre Lieder by Schönberg: probably the first 'live' edited by Deutsche Grammophon, which is still my favorite recording of this work, despite the recent and very good account by Markus Stenz. The Prelude is just magical.
A must have!
Program:
Gustav Mahler (1860-1911) – Das Klagende Lied (1899 edition)
1 – Der Spielmann
2 – Hochzeitstück
Julia Hamari – Rose Wagermann – Davide Rendall – Chor des Bayerische Rundfunks – Heinz Mende – Rafael Kubelík – 8 June 1979
Johannes Brahms (1833- 1897) – Rapsodie für eine Altsimme, Männerchor und Orchester op. 53 (1869)
Grace Hoffman – Chor des Bayerische Rundfunks – Wolgang Schubert – Rafael Kubelík – 18 June 1962
Arnold Schönberg (1874-1951) – Gurre Lieder – excerpts (1913)
Herta Töpper – Inge Borkh – Herbert Schachtschneider – Kieth Engen – Chor des Bayerische Rundfunks – Heinz Mende – Rafael Kubelík – 10-12/3 June 1965