Arrangements – Bach by Mozart, Brahms by Schoenberg, Stravinsky by himself, Janacek by Marakta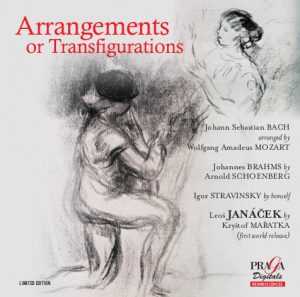 Johann Sebastian Bach - Well-Tempered Clavier, Book 1: Prelude and Fugue no 8 in E flat minor, BWV 853 (1722) - Wilhelm Kempff 
Wolfgang Amadeus Mozart - Preludes and Fugues (6) for Violin, Viola and Cello, K 404a - n°1 (1782) - Georges Janzer (Viola), Arthur Grumiaux (Violin), Eva Czako (Cello) 
Johannes Brahms - Quartet for Piano and Strings no 1 in G minor, Op. 25: 2nd movement, Intermezzo, Allegro ma non troppo (1861) - Michael Tree (Viola), Artur Rubinstein (Piano), John Dalley (Violin), 
David Soyer (Cello) 
Quartet for Piano and Strings no 1 in G minor, Op. 25: 2nd movement - Orchestration by A. Schoenberg  
Chicago Symphony Orchestra - Robert Craft 
Igor Stravinsky - 3 Pieces (1914) for String Quartet - Tokyo String Quartet 
4 Etudes for Orchestra (1914)
London Symphony Orchestra - Antal Doráti 
Leos Janácek - Youth (Mládí) (1924) 
Zbynek Cicha (Bass Clarinet), Prague Wind Quintet 
Arrangement for string quartet - Krystof Maratka - Zemlinsky Quartet
Arrangements or transfigurations ? That's the question. For my taste I prefer the Bach's original where Wilhelm Kempff create poetry between the notes, the Schoenberg's transcription for large orchestra of Brahms's piano quartet n°1 Op. 25, the Stravinsky's two sets being rather different.
The main attraction of this CD is certainly the transcription by Kryštof Mařatka (1972*) of Janáček's Mládí (Youth) from wind sextet to a string quartet. All excerpts in this SACD are reissues, except this transcription recorded last year by the Zemlinsky quartet. If we miss the colors of the wind sextet (superbly done by the Prague Wind Quintet), we have here a piece which sounds more dissonant and present a greater interiority. Contrary to the original, Mařatka indicated his own tempi, which are slightly different from the sextet version.
A great addition for the repertoire of curious string quartet ensembles.