Sandro Ivo Bartoli in Paris [FR]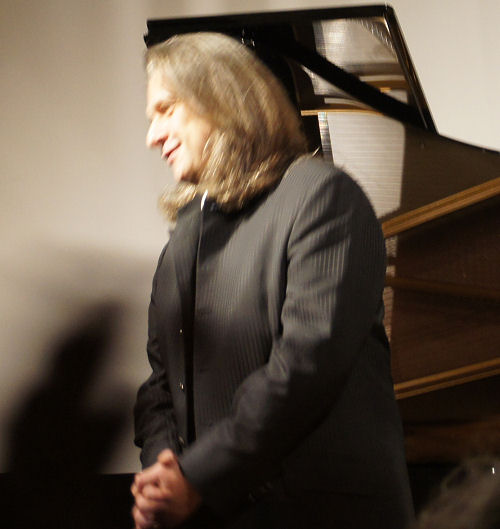 A rare event: the great Italian pianist Sandro Ivo Bartoli was in Paris on Friday night at the Italian Institute of Culture. The evening began with the release of the film « Pianist / Performer » by Miroslav Sebestik dedicated to him (you can buy this DVD, which we have already presented, here).
Followed a recital about an hour of this pianist, on the beautiful – but still a little young – Fazioli of the Institute. On the program: Italian music of the early twentieth century which he is the herald:
Ottorino Respighi : Tre preludi sopra melodie gregoriane (1919)
Gian Francesco Malipiero : Maschere che passano (1918) et Barlumi (1917)
Alfredo Casella : Toccata (1906).
We already knew him from his CDs: for example through his Malipiero (see). But we were happy to see our impression about this artist was confirmed his 'live' performance : a breathtaking mastery and for keyboard and for the scores, and superb sound, even in moments of great virtuosity. In short, an artist; we would suggest that – even if it has been wrongly said that it was 'contemporary music': works are almost 100 years old – a brief introduction to them would not hurt.
The Respighi, inspired by Gregorian chant was like a distant memory of the last Liszt. The Malipiero so addictive (superb « masks that pass » with echoes of Debussy and Séverac) leading to the virtuoso Toccata Casella (written before that of Prokofiev).
Among Sandro projects: a complete CD with works for piano Respighi and a recital dedicated  to « Franciscan Liszt ».
We wait for his return in Paris, thanking in the meantime Clara Celati for the very interesting programming of the Italian Cultural Institute (held by Marina Valensise).
By the way, Miroslav Sebestik is preparing a movie about Michel Fano.
Extracts from his discography, specially a superb Bach / Busoni :