Olivier Baumont – French organists  at the end of the Ancien Régime [FR]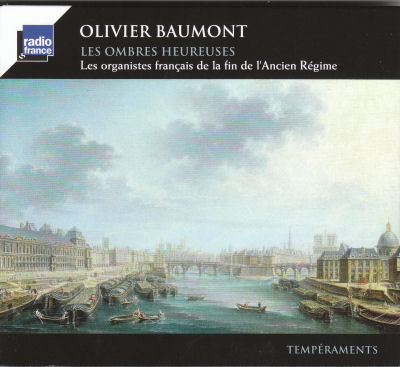 An exciting project, interesting for its unknown partitions, its Instrumentarium and the quality of the notice. The CD consists of pieces for organ (Dom Bedos of the Holy Cross Church of Bordeaux) framing other pieces played on an « organised (from 'organ') piano by Sebastian Erard of 1791. Let's outset , we still prefer listen to Grigny or Couperin : there is more science , style and poetry there, but the whole music is quite relishing. And at the second listening, we have the strange feeling of having always been familiar this music in its French style.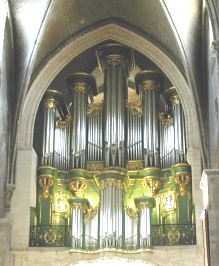 Organ
For the organ, Olivier Beaumont has invited Claude Balbastre (1724-1799), Michel Corrette (1707-1795), Armand-Louis Couperin (1727-1794), Josse-François-Joseph Benaut (?-1794), Guillaume Lasceux (1740-1831).
The CD begins with a jingle bell that indicated at the time that the organ blowers had to get moving… Remember this pre -Renaissance painting where you see a woman playing at the same time on the organ keyboard and ring bells arranged in a row :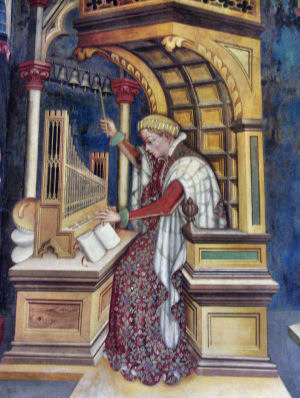 » Hedonism  » is a word that recurs in the commentary by the keyboardist ; it sums up the general feeling felt listening to this CD. We can tastea tonic Concerto by Balbastre where two Gavottes come in breath between Allegro sounding and blithe, or the beautiful Offertoire symphonie concertante by Guillaume Lasceux who died in 1831, Franck being 9 years old … until the thunderous Thunder by Michel Corrette (the inventor of the cluster to the organ ?) .
Organised piano
PIeces by Claude Balbastre and Jean-Jacques Beauvarlet-Charpentier (1734-1794) are played on this hybrid instrument: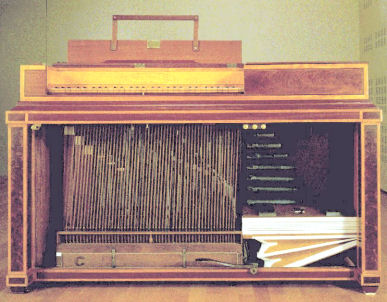 Besides Balbastre, we will find two works by Jean-Jacques  (1734-1794). The alliance pipes / strings is amazing and beautifully made (cf. below the Fuga IV Allegro by Beauvarlet-Charpentier).
One can only praise the technical mastery and the taste of Olivier Baumont.