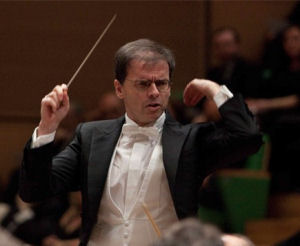 Giuseppe Grazioli
We were invited to La Traviata by the Montpellier Opera and took the opportunity to interview the Italian conductor Giuseppe Grazioli
Beginnings
His conducting debut began with Gian Luigi Gelmetti at the Milan Conservatory, as well as with Franco Ferrara, Leopold Hager and Peter Maag. He then followed a seminar by Leonard Bernstein, who he accompanied during his European concerts at the end of his life. A story about this: at the end of his life, before leading Beethoven' 7th, he stillwondered if he should beat one of the movements at o 4 or 8 … his true beginnings occured when he had replace at short notice a French leader to conduct Butterfly.
Repertories
He has since conducted numerous symphony orchestras, notably in Italy and many opera stages around the world; his operatic repertoire is vast and his activity as a symphonic conductor is resolutely turned towards unfrequented directories. His time is divided equally between the pit and the podium; he sees as a major asset to benefit from the experience of the opera to make sing solos with a symphony orchestra, as well as his experience in the symphonic field allows him to ensure proper management of the musical work at the opera. It is important for him to lead works to which it adheres: Bellini or Hindemith for example are not in his repertoire. One of his greatest pleasures is to see that he managed to great public interest with rare works. For example, ther will be soon a series of 12 concerts in Milan dedicated to symphonic works by opera composers (Mascagni, Cilea, Alfano, Boito, etc..). Similarly, he is interested in the Italian repertoire forgotten the interwar forgotten especially for political reasons: the composers of the time had changing relationships over time towards Mussolini (Malipiero Casella, Dallapiccola …). His next concerts in Milan will present work from composers absolutely unknown in France: Gino Negri (1919-1991), Fiorenzo Capi (1918-1997), Giorgio Federico Ghedini (1892-1965), etc..
Opera houses
There are certainly major differences between French and Italian opera houses: « In Italy, it is rare that I know well in advance when will the rehearsals stand and even with which singers »: budget cuts make them working on the razor's edge, with sometimes almost miraculous achievements: artists and musicians seem to have become accustomed to a kind of culture of danger. In France, distributions and schedules are prepared well in advance. Giuseppe Grazioli cares for public attendance at the opera and fears that the increasing development of recorded sessions broadcasted in cinemas increase this disaffection. « In opera, the viewer can choose to turn his attention to such and such a singer in a scene, or to listen to a particular section of the orchestra; in a record, such as the disc, everything is imposed on you by a third party.  » On the contrary, he recalls of a concert which was a real challenge and a real success: accompanying a silent film with Rosenkavalier with a Straussian orchestra playing synchronously a specific arrangement of the work written by the composer!
Singers
He did not choose distributions and cope with it. He says he dismisses almost never a singer who does not share his musical convictions, but rather try to convince him or her to get closer to his views. In this regard, he said that the departure of Omo Bello who had to share the title role was due to a temporary health problem and he wanted to preserve her voice. He said the best of the young soprano Kelebogile Pearl Besong, who was taking the title role for the first title in La Traviata last Friday.
La Traviata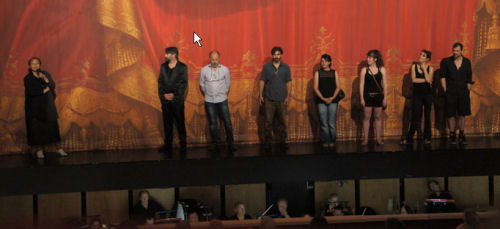 I missed the second part due to TGV. Some impressions: Giuseppe Grazioli is a great leader and a true Verdian conductor: color, rhythm, musical flow, management of singers and chorus were excellent. For the orchestra, some weaknesses in the wooden desks, a sometimes inopportune soloist trumpet and trombones well talkative in the first sense. But it was overall of a very good level. The show was delayed by a statement from representatives of « intermittents », a French specificity, my neighbor told me that the set showed some intermittently, to which I replied: Which sets? It may also be that nudity staging which made mayonnaise was hard to take at first, to the point that I was interested only by the orchestra for a long time until the … entrance of Alfredo's father, baritone Enrico Marrucci. A beautiful timbre, a voice which carries a presence and a sense of vocal line. He looked almost never the head (he should have done it on one or two occasions, however).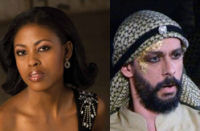 By cons, Giuseppe Grazioli led almost measure by measure the soprano Kelebogile Pearl Besong at the beginning; again the staging did not help her much to develop a true incarnation of the role, but things clearly when better with the duet with Germont's father. No doubt this singer of South African origin is destined for a great career. But he had to leave at intermission .. Back to Giuseppe Grazioli :
do not hesitate to go and listen to this conductor (he wille conduct The Turk in Italy in Luxembourg early November)
he continues this summer his complete recording of orchestral works by Nino Rota for the Decca label, 6 CD are already published, but we'll talk about it later.