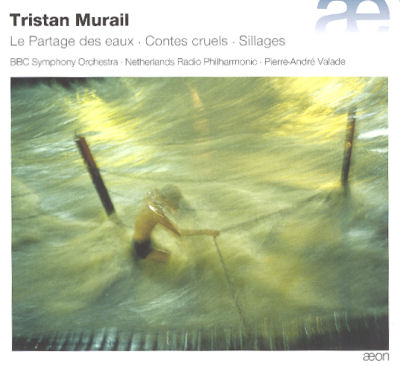 Le partage des eaux (1996) – BBC symphony orchestra – 2002
Contes cruels (2007) &
Sillages (1985) – Netherlands Radio Philharmonic – 2010
Direction – Pierre-André Valade
Happiness never comes alone, after the superb spectral concert at Radio France given on March 7 by the same Pierre-André Valade and the – still alive, hopefully – Philharmonic Orchestra of Radio France, here comes this Murail anthology.
Outhere music – Label Aeon – put online Le partage des eaux.
Le partage des eaux
Presentation of the work on the composer's website here. This is a work involving electronics; it reminds me of the concerns of Philippe Manoury on electronic "instrumentarium" of past works that sometimes tends to disappear; here, the Yamaha synthesizer had to be replaced by a computer, to enrich an orchestra somehow "increased". The works of the spectral movement may seem imaged: paintings for Dufourt, natural phenomena sometimes for Murail, but it is not to be taken literally: I would not include them in my paper "Music and Impressionism "! If there are here some sea reminiscences, the initial inspiration of the wave and its surf is mainly found in the arrangement of energy flow, all in a  (French) extreme sophistication. French? If it sounds less "Messiaen" as his recent piano concerto, I have often thought of Escales during my repeated listening…
Contes cruels
Presentation (with excerpt) on the composer's site. Two electric guitars (guitarists Wiek Hijmans & Seth Josel) are invited here. Only one of the Villiers de l'Isle-Adam's text is kind of quoted here: "The secret of the ancient music. A highly structured work, including the interventions of two guitars, with profuse orchestral imagination, sometimes with playful features, and a more serious tone by the end.
Sillages
We have been in Kyoto, where trams "with fantastic horns" have been effectively replaced by a subway – cf. Introduction (with an excerpt) by the composer. Materials, flows, energies, let's quote Pierre-André Valade about the work of Murail and this piece in particular: "[…] It is this total dependence between of the elements on each other that is striking in the style of Murail, whose genius lies, among other things, in the ability to organize particularly complex sound objects into an overall result that is totally coherent and natural. And this particular phenomenon, wchich is found throughout the composer's output, but perhaps explored in even greater depth here, gives the piece its fantastic energy".
Superb realizations all along.