Roger Muraro – Franz Liszt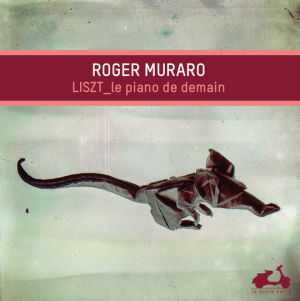 Program:
Fantasia and fugue on B-A-C-H
Der Fliegende Holländer, Spinnerlied
Tristan une Isolde: Isoldens Liebestod
Hungarian rapsody no 10
Saint François de Paule marchant sur les eaux
Sonata in B minor
Bonus online track: Hungarian rapsody no 15 'Rácókzy'
Some critics first:
This CD is entitled "The piano of tomorrow": this title would be best suited for the recent album by Marino Formenti which confronts more premonitory pieces by Liszt with scores by contemporary composers.
The visual (for me).
The sound, correct but with rather blurry harmonics.
Many applauds then:
Roger Muraro is an outstanding pianist: fluidity, virtuosity, colors: an enchantment (the sequencings in Tristan!).
The program: a survey of main characteristics of Liszt's piano: Bach, Wagner, transcriptions, religiosity and Hungarian music.
For me the best part may be the Fantasia on BACH, splendid. For Saint François, I had preferred more characterized phrasing.
And then a very good lecture of the Sonata (that's a rather short comment!: everyone has his own opinion on he way this extraordinary piece should be done – maybe later on I'll make a complete interpretative survey just to characterize the best versions – this present one may very well belong to them).
A very good Liszt CD.